Ruta - Portofino Vetta - Pietre strette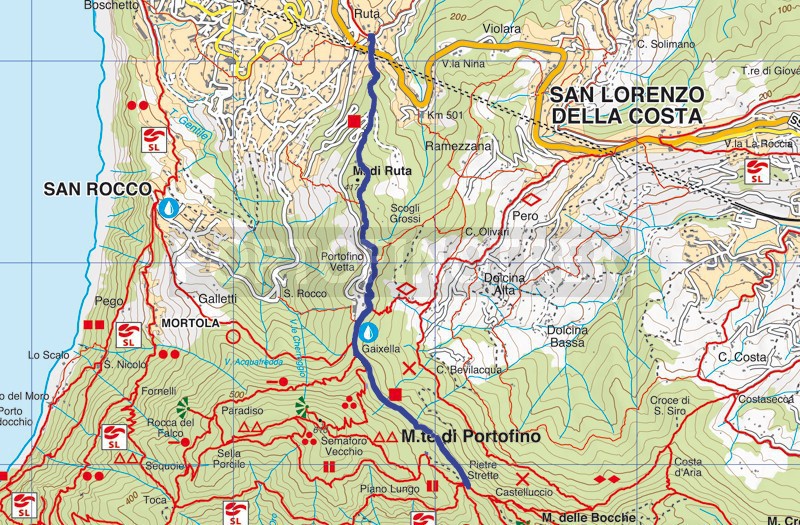  
Difficulties
Low
Duration
50'
Length Km
2,650
Footpath signs
279m - 461m | 247m | 71m
Starting point
You start by taking Via Gaixella near the San Michele Arcangelo church in Ruta di Camogli * , a shady path that passes through some houses. We leave out some deviations that meet along the road to continue straight ahead. (in some points on the right, you can enter the driveway; on the left there is a dead-end road that leads to a private property)
After about 20 minutes, walking along the back of the Hotel Portofino Kulm you will reach to Portofino Vetta (a place that can also be reached by car).

The road continues practically flat, passing on the left the detour to San Lorenzo della Costa and a little further on, in Gaixella , the path that goes down to < strong> San Rocco in Camogli.
Here there is a first stopping point equipped with tables, wooden benches and drinking water tap. Going straight on, after about fifty meters it will be possible to see the beginning of the paths that lead to the "Semaforo vecchio" and "Semaforo nuovo".
Always keeping the main path (

) you arrive at" Pietre Strette ", an important point of the Promontory from which you can reach various other destinations: San Fruttuoso, Semaforo vecchio, San Rocco di Camogli, Portofino Mare, Santa Margherita Ligure, Base O, Nozarego, Paraggi , and others.
Here, moreover, there is a second area equipped with tables, benches and a drinking water tap.
* The church can be reached via the steps to the left of the gallery (coming from Genoa).
Data sheet
Time

Up to 1h

Length Km

2 - 4

Difficulty

Low
100% secure payments
You might also be interested in