Become a Supporter of Portofinotrek
Enjoy 12 months of access to all content.
Since 2010, we have been dedicated to promoting and describing the countless trails of Portofino Park, the Gulf of Tigullio, and lately, the Gulf of Paradiso.
From the results we've achieved, we believe we've done it in the best way possible and have inspired many people around the world to visit this part of Liguria.
Managing Portofinotrek, while continuing to offer quality content, has become increasingly demanding over time.


Why become a portofinotrek
?
Discover below all the benefits reserved for our supporters.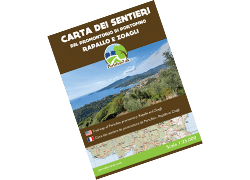 Get a discount!
By becoming a Portofinotrek supporter, you can enjoy a 60% discount on the purchase of our trail map.
Why do we ask for your support?
Portofinotrek is a website born and grown out of our passion for hiking, and the desire to showcase the lesser-known but equally marvelous and surprising parts of our region compared to the coast.
Passion, however, often isn't enough, and after thirteen years of activity, we needed to take stock because over time, to offer a website that stays up to date with quality content, our commitment turned into work.
Behind each of our itineraries, there are several phases: the preparation, where we carefully plan the route; the practical excursion, which often leads us to explore new and different paths to propose the best and most accessible route to our users; and finally, the insertion of all the material on the website.
And here is where the real work begins: downloading and resizing images, uploading and optimizing the GPS track on the map, describing the route in detail, researching brief information on any encountered peculiarities, translating into English and French, managing social media pages, and more.
A job that has, furthermore, been undervalued and diminished by all those who, over the years, copied our content without permission, using it on their websites or in hotel brochures without crediting the source.
When you add all of this to the fixed costs we've incurred over the years for website management, it became inevitable to modify access to Portofinotrek, asking for a small contribution that will enable us to keep the website active and updated, and our supporters to access, for a year, all the detailed itineraries, their respective GPS tracks, access the digital map, and have direct contact with us via email for suggestions and advice.
Supporters will not only help us but also the planet because a small percentage of the earnings will be used to continue buying and planting trees around the world, thanks to our collaboration with Tree-nation, joining the fight against deforestation, which is already active when purchasing our paper and/or digital map.
This way, we can permanently eliminate the annoying advertisements that partly cover the expenses but disrupt the reader (we are the first to detest these banners) by distracting and interrupting their site navigation. Now the browsing experience will be smoother and faster.
For those who choose not to join, which is understandable as not everyone may be interested in supporting an activity like ours, you can still continue to read the descriptions of the main itineraries for free, and you are always welcome on Portofinotrek!
Unlock, view and download the gpx track by becoming a Supporter.
You might also be interested in