Ruta - Portofino Vetta - Pietre strette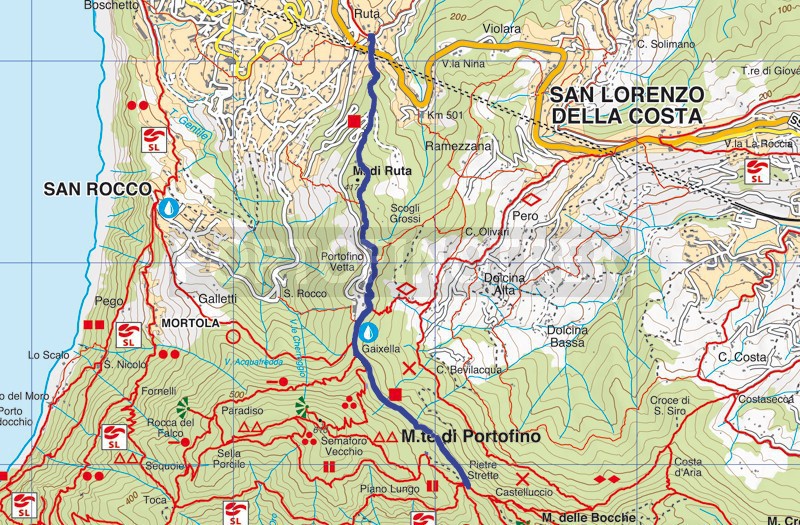 Difficulties
Low
Duration
50'
Length Km
2,650
Footpath signs
281m - 458m | 188m | 12m
Starting point
Near the San Michele Arcangelo Church in Ruta di Camogli*, you take Via Gaixella, a shaded pathway that begins amidst the houses, with steps and continues with cobblestones.
You pass by several junctions along the way (on the right, at certain points, you can enter the drivable road; on the left, a dead-end road leading to a private property) to continue straight ahead.
After about 20 minutes, skirting behind the Hotel Portofino Kulm, you reach Portofino Vetta (a location accessible by car as well).

The road continues mostly flat, crossing the left turn for San Lorenzo della Costa on the left, and a bit further ahead, in the Gaixella area, the trail descends to San Rocco of Camogli.
Here, you'll find a first equipped rest point with tables, wooden benches, and a drinking water tap. Continuing, after about fifty meters, the paths to the old Semaforo and the new Semaforo start; always staying on the main trail (

), you arrive at Pietre strette, the centerpiece of the Promontory from which you can reach various other locations: San Fruttuoso, Old Semaforo, San Rocco di Camogli, Portofino Sea, Santa Margherita Ligure, Base O, Nozarego, Paraggi, and others.
Furthermore, here you'll find a second equipped area with tables, benches, and a drinking water tap.
*The church is reached via the staircase to the left of the tunnel (coming from Genoa).
Unlock, view and download the gpx track by becoming a Supporter.
Data sheet
Time

Up to 1h

Length Km

2 - 4

Difficulty

Low
You might also be interested in