Pietre strette - Toca - Semaforo nuovo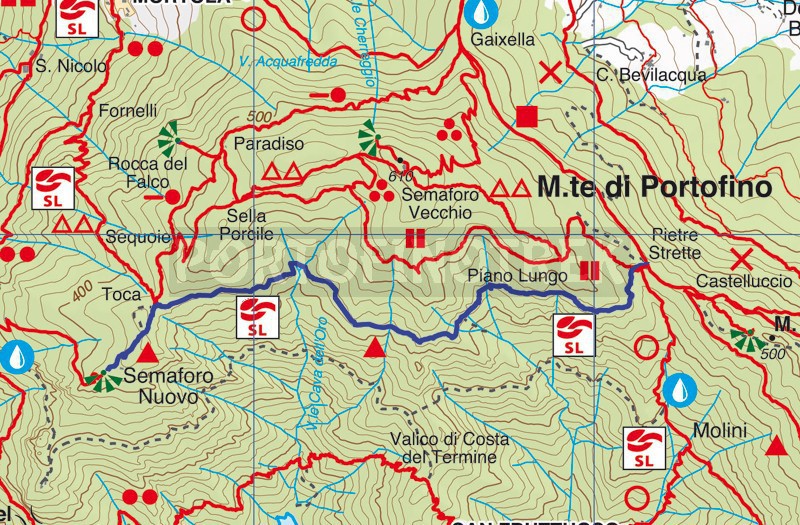 Difficulty
Medium
Duration
45'
Length Km.
2,250
Footpath sign
411m - 481m | 201m | 231m
Starting point
The starting point of this itinerary is Pietre Strette, the heart of Monte di Portofino, which everyone can reach from the preferred location (the nearest being Portofino Vetta).
From the imposing conglomerate rocks that characterize Pietre Strette, take the path that descends to San Fruttuoso, leave it immediately and continue to the right following the signs for "Toca".
After an initial shaded stretch, the trail exits the woods and advances along the coast overlooking the sea for almost the entire route, offering numerous panoramic views of San Fruttuoso and Cala dell'Oro in a blend of truly spectacular shades of green and blue.
In 45 minutes, you'll reach the location of Toca, a very peaceful corner and a crossroads of other trails, equipped with two benches and a wooden table.
But it's not advisable to stop here, because by walking another 5 minutes, you'll arrive at Semaforo nuovo, where not only can you make use of another picnic area (though there's no possibility to get water), but you can also enjoy an extraordinary view that spans from the Gulf of Tigullio to the Gulf Paradiso, reaching even beyond Genoa.


Unlock, view and download the gpx track by becoming a Supporter.
Data sheet
Time

Up to 1h

Length Km

2 - 4

Difficulty

Medium
You might also be interested in