Ruta di Camogli - Santuario di Caravaggio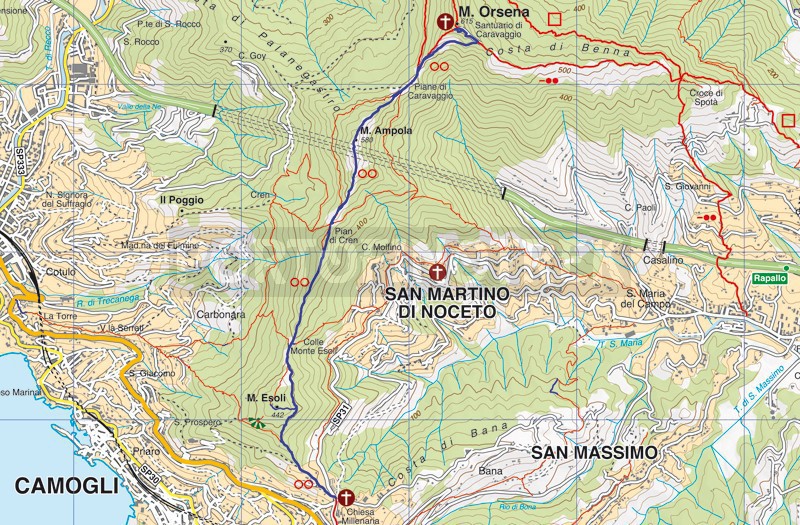 Difficulty
Medium
Duration
1h 40'
Length Km
3,600
Footpath signs
279m - 604m | 420m | 95m
Starting point
This we propose is the most popular path to reach the Sanctuary of Caravaggio , on Mount Orsena which, not presenting great difficulties, is suitable for both families and more trained hikers who can then continue for other destinations.
We only recommend that you stock up on water because there are no sources of drinking water along the way.
The starting point is in Ruta di Camogli, at the Millenary church, reachable by car (you can park along the road) or by busfrom Rapallo, Santa Margherita Ligure or Camogli/Recco.
The path is highlighted by a panel of the Ente Parco Portofino , it begins in Via Caravaggio, the staircase next to the garden that surrounds the ancient Romanesque church overlooking the sea, and is marked by

.
After having crossed the first inhabited area, the path continues uphill in a beautiful wood to arrive at a first meadow that is particularly beautiful in spring when the primroses bloom. This is followed by another shady stretch characterized by some natural stone steps before arriving at Pian di Cren where it is not possible not have a stop and admire the view, on one side the Golfo Paradiso and on the other side the Gulf of Tigullio .
Here, near a hunting post, it is possible to follow the official path, always straight and well traced, or take the alternative path to the right, a little longer but definitely more panoramic, which through a narrow path which climbs in the middle of the vegetation with a certain slope reaching Monte Ampola (573mt. slm) where there is a telephone repeater and the view is truly amazing.
Continuing and descending along the path you will arrive at a plain, very popular on weekends, to reconnect with the traditional route and continue for a final flat stretch up to the Piane di Caravaggio .
Here too there are two options for ascending to the Sanctuary: on the left (actually in front of you) climbing the ancient and original stone staircase or on the right along the flat path that bypasses the sanctuary to the helicopter landing pad , from where the most recent staircase starts which ends in front of the sanctuary of the Madonna di Caravaggio (615 meters above sea level).
Unlock, view and download the gpx track by becoming a Supporter.
Data sheet
Time

From 1h to 2h

Length Km

2 - 4

Difficulty

Medium
You might also be interested in