Portofino - San Fruttuoso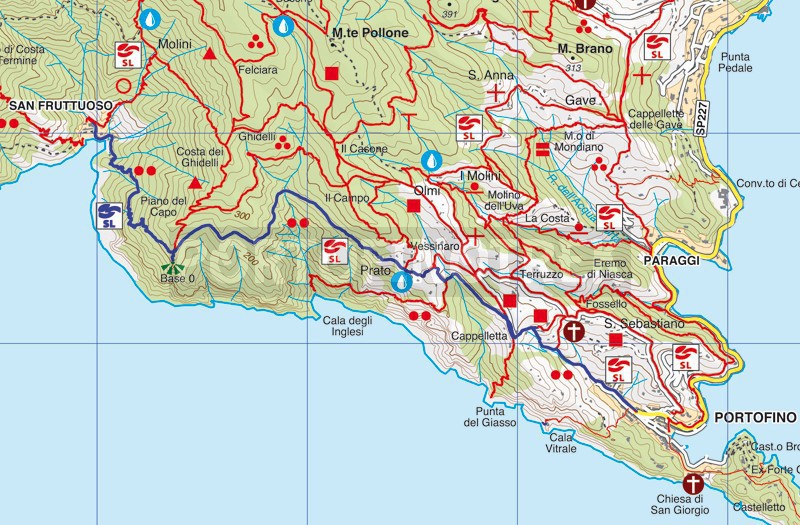 Difficulty
Medium
Duration
1h 50'
Length Km
4,200
Footpath sign
2m - 264m | 299m | 307m
Starting point
This itinerary is very scenic and does not present significant difficulties but it should be noted that the initial section consists of a steep and tiring climb.
The departure is in via Fondaco, the small road at the end of the Portofino car park, which climbs up passing under the Carabinieri station.
After passing the hotel, keep left and take the staircase of large stone and concrete steps that climbs through the vegetation.
A wooden gate that blocks the entrance to wild boars meets a little further on in Cappelletta , please close it after passing.
Turning right, after 50 meters the path divides: on the right a concrete road climbs towards Portofino Vetta, you, on the other hand, must take a left towards Vessinaro - Prato - San Fruttuoso.
The path, largely unpaved and flat, winds its way through the countryside to Vessinaro where the detour to Cala degli Inglesi starts (a beautiful inlet that can only be reached on foot or by boat); the path continues straight under the chestnut trees and after 5 minutes you enter, for a short distance, on a steep carriage road* which ends in front of some houses in place called Prato.
There is a drinking water tap here.
Taking the path on the left that advances following the western side of the Promontory which, overlooking the numerous coves below, alternates short flat stretches with numerous ups and downs in the middle of protruding rocks, you will arrive, after about 1 hour and 10 minutes from the start, in the locality Base 0 .
Base 0 was a military post during the Second World War, today it is a panoramic stopping point where you can find a table with benches from which, turning right, you can reach Pietre Strette. San Fruttuoso can be reached by taking the path on the left.
From here the path enters the woods and descends steeply and irregularly with remarkable panoramic views of the village.
The arrival in San Fruttuoso is at the helicopter landing base, from here you continue going down to the right in the middle of the woods and after near some houses. Just after few meters you'll arrive to one of two enchanting bays.


*This stretch of road is accessible to scooters and small vehicles available to the inhabitants of the area, be careful.
Unlock, view and download the gpx track by becoming a Supporter.
Data sheet
Time

From 1h to 2h

Length Km

4 - 6

Difficulty

Medium
You might also be interested in