Chignero - Passo Serra - Passo della Spinarola - Monte Tugio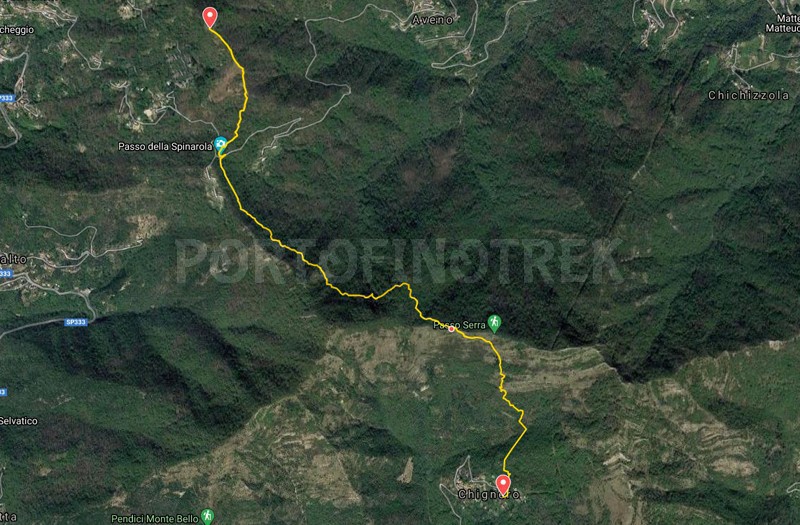  
Difficulty
Medium - High
Duration
2h 00'
Length Km
3,900
Footpath signs
+
371m - 661m | 307m | 592m
Starting point
The trail we propose here allows you to reach Monte Tugio , located between the municipalities of Tribogna and Uscio, starting from Rapallo. We have not specified the return route because there are several options depending on the available time and individual fitness level: you can choose whether to follow the same path as the outward journey or continue to Uscio - Colle Caprile or return to Passo della Spinarola continuing on the path that leads to the slopes of Monte Bello and Passo del Gallo.
We start from Chignero , a fraction of Rapallo which is about 5 kilometers from the motorway exit , also reachable by small buses which depart from the railway station (see timetables here because they are infrequent and only on weekdays).
Follow the asphalted road for a few meters that climbs near the church and then continue to the left following the clear signs for Passo Serra which as a signpost has

.
The path runs flat and then goes up with a series of stone steps in the woods and crosses a stream that is almost always dry (given the current state of the small wooden bridge, we suggest to go directly to the rock) and arrive at a crossroads, where the signs invite you to climb.
In short you will come out of the bush and an open view of Rapallo and the Portofino Promontory characterizes the stretch that precedes the arrival at the ridge path and after a few meters to the Passo Serra.
Now the signpost to follow is

, the path becomes narrow and crosses a more humid and shady side, meeting some streams and also a source and, gradually losing altitude, in about 1 hour it reaches Passo della Spinarola on the driveway (here there is there is a panel with the map of the area).
Above us it is possible to see the bridge that crosses the road which comes from Caravaggio; we take this path towards Colle Caprile and turn right after a few meters towards " Monte Tugio (Tuggio)".
The climb is quite pleasant, not so tiring and marked with

for the first meters, after this there are not signpost but it is not possible to go wrong as the track is very clear (pay attention because this is also a popular mountain bike trail ).
After about 800 meters and 20 minutes of walking you will reach the top of the mountain (677 a.s.l.) recognizable by the large concrete cross overlooking the valley, the remains of an ancient bastion of the Genoese Republic as well as horrible antennas.

We go up and enjoy the fantastic and well-deserved panorama.
Unlock, view and download the trail track by purchasing a map.
Data sheet
Time

From 2h to 3h

Length Km

4 - 6

Difficulty

Medium - High
100% secure payments