S. Andrea di Foggia - Chignero - Pendici Est - Manico del Lume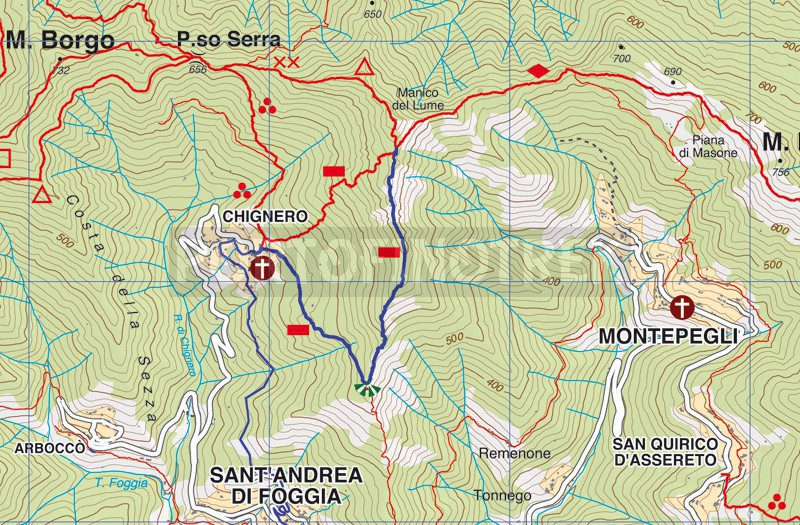  
Difficulty
High
Duration
2h 20'
Length Km
5,100
Footpath signs
95m - 775m | 918m | 239m
Starting point
This trail is classified as being of high difficulty, because the section that climbs from the 'bench' towards the summit requires great care and has a short passage on a rock, equipped with a chain
The starting point of this route is Sant'Andrea di Foggia, a small village near Rapallo that can be reached from the train station by bus, or from the motorway exit in 5 minutes by car.
Once you arrive in front of the village church, the FIE sign is clearly visible on the right, indicating the start of the itinerary: a beautiful stone staircase that climbs between the houses. After a few meters you will arrive in front of a gate that is a little uncomfortable because it seems to delimit a private property, in reality instead, it has been arranged to prevent the passage of wild boars, so you can pass safely taking care to close it, as well as the next one. a few meters away.

From here begins a somewhat bumpy stretch caused by the passage of wild boars, and intrusive brambles that hinder the path.
At a certain point, the path crosses a asphalted road that you follow for a few meters to go down to the left and then take a climb to the right for about 350 meters, following the signpost

, to return again to the mule track that advances in the woods and leads to the first houses of Chignero .
After crossing the small and delightful hamlet of houses, you arrive at the church of Chignero.

Continue on the paved road behind the church to leave it after a few meters to continue left always following

.
The path leads to some beautiful peasant houses, then entering the woods and climbing towards the south-east becoming gradually more open until you reach an extremely panoramic point that deserves a short stop enjoing the panoramic view from the wood bench.
Right behind the bench starts the path towards "Manico del Lume", nemed "bench path", you have always follow the red line sign (

) climbing along the mountaint ridge.

An exciting path that climbs partly on rocks and grass surrounded by a unique panorama that often invites you to stop and admire it.
After a small passage on a rock, equipped with a chain but not too demanding, you find yourself under the summit and soon the path joins the one coming from Monte Pegge and you arrive at your destination.
NOTES :
- The route is not particularly difficult, but it is recommended to wear shoes that have a good grip.
- To fully enjoy the view it is advisable to go up the other side (click here) and follow this path back.
- From Manico del Lume it is possible to continue to various destinations: Montallegro - Ruta - Uscio.
Unlock, view and download the trail track by purchasing a map.
Data sheet
Time

From 2h to 3h

Length Km

4 - 6

Difficulty

High
100% secure payments
You might also be interested in