Rapallo - Montallegro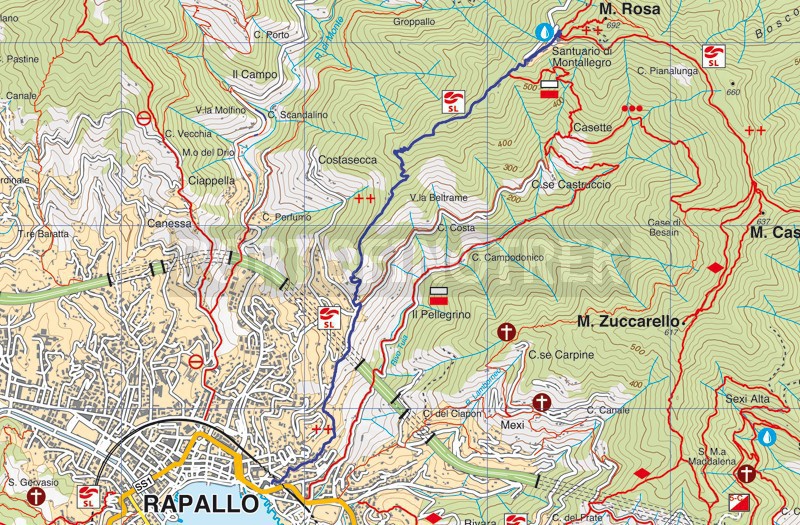  
Difficulty
Low
Duration
1h 20'
Length Km
3,800
Footpath signs
1m - 593m | 630m | 37m
Starting point
The start is in Via Don Minzoni which we leave after about 200 meters
The departure is in Via Don Minzoni which abandons after about 200 meters taking Salita Calissano on the left which continues changing its name to Salita Montallegro which will lead you to the church of San Bartolomeo . Continue on the mule track until you arrive at Pellegrino .
Go left along the asphalted road uphill for about 50 meters, to resume the path that climbs to the right and which now becomes more steep.
The path continues with hairpin bends, alternating more shaded sections in the middle to the woods with more open sections (and very sunny, in Summer).
Along the way a yellow colored stone indicates that you are halfway; Shortly after you will notice a small stone cottage, the only shelter in case of a sudden storm.
Take a short breath by taking a short stop on the stone bench that you will meet shortly after to admire the splendid panorama that presents itself in front of you.
A short flatter section with a view of San Maurizio dei Monti, will announce a series of steps leading to the cable car station. From here, continue on the avenue lined with oaks that reaches the imposing staircase of the Sanctuary of Montallegro .
If you still want to take a walk, you can go up to Monte Rosa , through the path behind the church, which in 10 minutes will take you to the top retracing the stages of the Via Crucis.

* It is possible to start the ascent to the Sanctuary of Montallegro also close the cableway station (reachable at the end of Via Maggiocco), along the "Salita Il Pellegrino"; the path consisting of a series of often steep steps, which joins the itinerary just described above near Pellegrino village.
Unlock, view and download the trail track by purchasing a map.
Data sheet
Time

From 1h to 2h

Length Km

0 - 2

Difficulty

Low
100% secure payments