Ruta - Pietre Strette - Felciara - Bocche - Dolcina - Ruta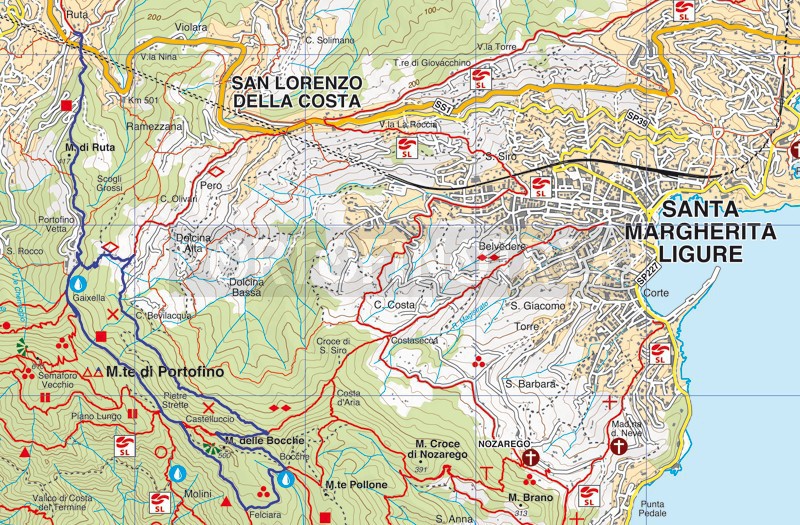  
Difficutly
Medium
Duration
3h 00'
Length km
8,500
Footpath signs
+ +  +
279m - 473m | 612m | 612m
Starting point
Starting point for this ring from Ruta of Camogli is Gaixella Street, the path at the Church of St. Michael the Archangel (accessed by stairs next to the gallery).
Take the road made up of concrete steps, in some places a little battered that wind through the houses and that, soon after, leaving room for the cobbles. Along the climb, miss you encounter some deviations (on the right there is a link to the driveway that goes up to Route Portofino Vetta, left the trail ends in front of some private property) to continue straight until you reach Portofino Vetta.
After passing the bar that you find behind the hotel and continue straight on the wide and easy trail that passes under the antennas, and in about 20 minutes, takes you places Strette Pietre, an important crossroads of Mount characterized by massive boulders and rocky point stops equipped with benches, wooden tables and tap water. After a few meters, leave the main trail that descends to "Portofino", to turn right and follow signs to "Felciara".
Through a narrow little path that offers some interesting glimpses of the sea, you arrive at "Felciara" staging point equipped with some benches and tables, which owes its name to the massive presence of ferns. From here, continue left into the woods, in short, encountered another picnic area, which also has tap water in the locality Bocche, on top of the trajectory Portofino - Portofino sea.
Climb to the left, towards Pietre Strette up to get on the right (200 mt.) Deviation for Santa Margherita Ligure. Walk down the steep and uneven path, marked by

, which has some high steps to take after a few minutes left, the path that indicates "Dolcina" and "San Lorenzo della Costa."
Warning! the pole indicator shows a red circle, but in reality, the journey is always indicated with a X.
Do not be discouraged by the presence of some felled trees (also quite massive) that impede the passage in the initial section and go straight for about 15 minutes until you cross to the left, the deviation for Dolcina (rights go down the coast to San Lorenzo della Costa, passing by Via Pero). The trail, which runs entirely in the woods, is now on the plains and is very nice. Continue straight on, leaving the only deviation that encountered on the left to emerge in a beautiful villa, overlooking Santa Margherita Ligure and the Gulf of Tigullio.
After a few meters on paved road, take the path of earth to turn left at the height of a typical rural house, meet the deviation for Portofino summit. The trail, marked by

, rises in stone steps of some houses to then cross a meadow, which offers an excellent view, and back then, quite steep in the woods. Arrive well in Portofino Vetta, where, retracing the route the first leg, back to Ruta of Camogli.
Unlock, view and download the trail track by purchasing a map.
Data sheet
Time

From 2h to 3h

Length Km

8 - 10

Difficulty

Medium
You might also be interested in