Portofino - Pietre strette - San Rocco - Camogli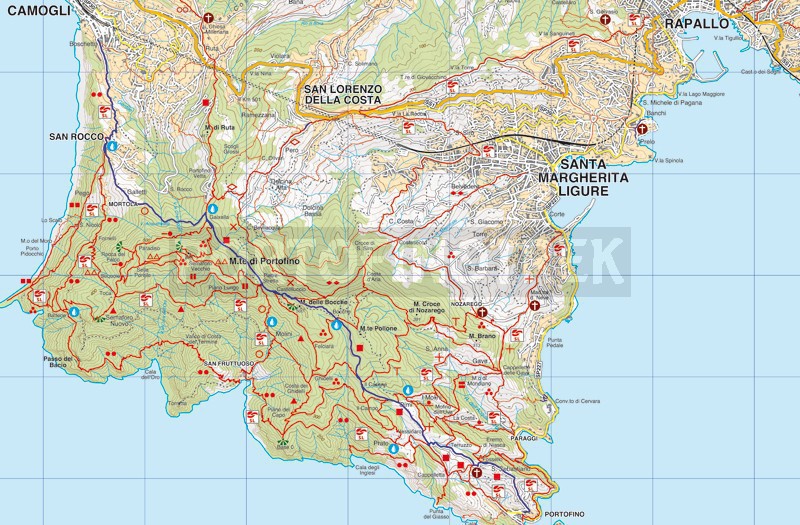  
Difficulty
Medium
Duration
3h 30'
Length km.
8,100
Footpath signs
+ +
3m - 473m | 561m | 551m
Starting point
Once in Portofino , take the path that climbs to the left from the bus stop (in front of the church); an uphill path, at times particularly steep, goes through high walls from which you can glimpse beautiful villas and well-kept private gardens.
In this first part of the itinerary you will be accompanied by enchanting views of the bay of Paraggi .
The driveway * is wide and well kept, and passes by San Sebastiano , a small group of houses around a small red church, and continues climbing through the hills reaching an equipped rest point, where it intersects the path coming from San Fruttuoso.
The climb now becomes a little less steep and abandoning the beautiful panoramic views of the Gulf of Tigullio passing by Olmi (250mt. sl.m.) (from where the branch to Nozarego starts ), Il Casone and Crocetta (363mt. sl.m.), equipped with a couple of benches to be able to take a break.
The slightly sloping path proceeds along the beautiful gravel and stone path, shaded by magnificent chestnut trees, holm oaks and maritime pines, arriving at Bocche (454 m asl), a crossroads of some paths and a rest stop equipped with tables, benches and drinking water tap.
Staying on the main path, another equipped rest stop follows at Pietre Strette (464 m asl), considered perhaps the most important point of Mount Portofino; in this stretch of road it is worth stopping for a few minutes on the bench, to our right, which overlooks Santa Margherita Ligure and San Lorenzo della Costa.
From Pietre Strette continue towards Portofino Vetta up to Gaixella (412 meters above sea level) (here there is another drinking water tap), where you have to turn left to go forward in the shady valley following the signs for San Rocco di Camogli.
After the first stretch in the middle of the woods, you descend between small cultivated fields and peasant houses reaching the small village of Galletti , after which a wonderful scenery opens up on Punta Chiappa, Capo Mele and gradually over the entire Golfo Paradiso.
The staircase ends in the panoramic churchyard of the church of San Rocco di Camogli (219 meters above sea level)
The staircase that descends towards Camogli begins right in front of the church and continues with a series of steps, meeting here and there some houses; after about 25 minutes, along Rio Gentile, you enter the Camogli car park.
* Street reserved for the inhabitants of the area and accessible by scooter or small vehicles.
Unlock, view and download the trail track by purchasing a map.
Data sheet
Time

From 3h to 4h

Length Km

2 - 4

Difficulty

Medium
100% secure payments
You might also be interested in