Portofino - Paraggi - Pietre strette - San Fruttuoso - Portofino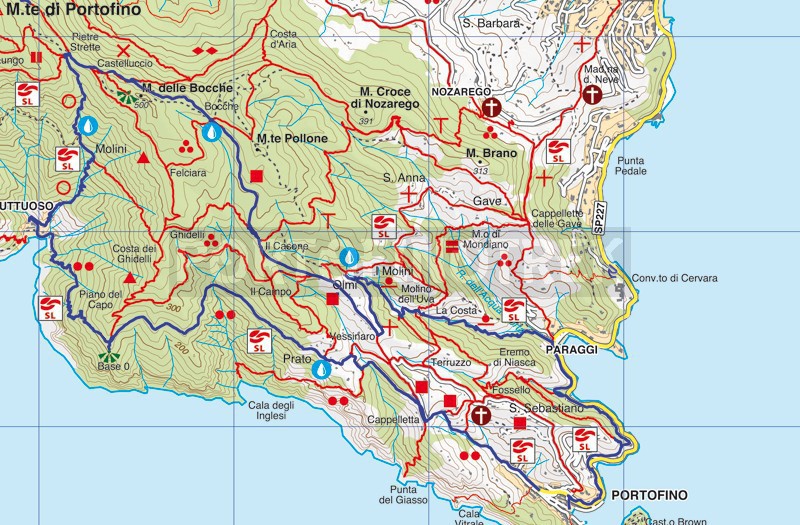  
Difficulty
Medium
Duration
4h 10'
Length km.
11,400
Footpath signs
+ +
1m - 473m | 1147m | 1139m
Starting point
Take the pedestrian path to Paraggi near the parish of San Martino, the church at the entrance to Portofino; the path is now named via dei baci, it is in the middle of the green and very well maintained, which runs a few meters above the carriage road.
Once in Paraggi (after about 30 minutes) go to the end of the car park and, through via dei Mulini which is to the left of the restaurant, you enter the Valle dei Mulini which owes its name to the ruins of old mills. interesting illustrative panels that describe their characteristics.
The climb ends at the Mulino di Gassetta, recently renovated and now used as a restaurant.
Turn left and reach Olmi, then continue on the right along the wide gravel and stone path that goes towards Portofino Vetta.
From here you always go straight through chestnut trees, pines, holm oaks passing through Crocetta, where you can rest on some shady benches, and Bocche (454mt. Above sea level), another stopping point also equipped with tables and drinking water tap, such as the next crossing point, Pietre Strette (15 minutes away from Bocche).
The path is well signposted and leads to San Fruttuoso begins behind the puddinga rocks and descends with fairly steep hairpin bends in the middle of the bush. After about 20 minutes you reach Caselle (and its drinking water tap) and shortly after an old mill (Agririfugio Molini), now restored and used as a farmhouse.
From here, sunny stretches alternate, in the midst of the typical Ligurian "Fasce" planted with olive trees, and more shady stretches that line a small stream, up to the sixteenth century Torre Doria; a steep staircase leads behind the Abbey and then to the enchanting bay of San Fruttuoso, where you can stop for a lunch break and an unforgettable swim.
The return starts by taking the path starting east of San Fruttuoso, among the fishermen's houses in La Cheta and leading to Base "0" crossing the heliport; the climb is immediately quite a challenge, but the effort is compensated by wonderful views of the bay and the sea below.
You will reach the first destination (220mt above sea level) in 35 minutes of walking; here you can take advantage of a table and two benches for a short break.
We continue our journey towards Portofino, the path is very pleasant and the view is enchanting; there are no particular precautions to report, the path has some ups and downs that are not particularly demanding up to Prato .
Here it will begin to descend; first you cross the locality of Cappelletta where you have to cross a gate built to prevent wild boars from entering; leaving these properties, a steep staircase will take you back to Via del Fondaco and then to Piazza della Libertà in the famous village of Portofino .
Unlock, view and download the trail track by purchasing a map.
Data sheet
Time

From 4h to 5h

Length Km

10 - 15

Difficulty

Medium