Portofino - Olmi - Gave - Paraggi - Portofino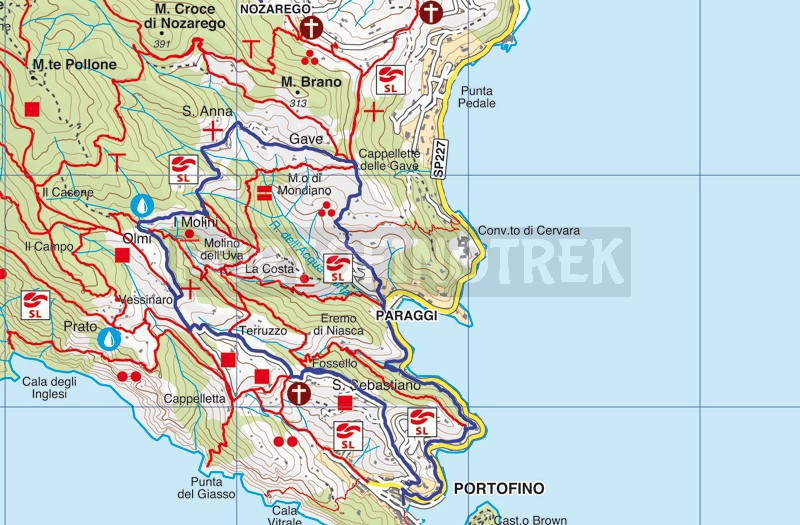  
Difficulty
Low
Duration
2h 30'
Length km.
6,200
Footpath signs
+
1m - 262m | 467m | 469m
Starting point
In front of the bus stop, at the parish church of Portofino, the pedestrian path begins that reaches Portofino Vetta; an uphill path, sometimes particularly steep, which goes between high walls from which you can glimpse beautiful villas and amazing private gardens.
This first part of the itinerary is accompanied by enchanting views of the Gulf of Tigullio and the bay of Paraggi .
This part of the path* is large and well maintained and crosses San Sebastiano a small group of houses around a small church red and climbing in the middle of the typical Ligurian "Fasce" you reach a point equipped with a table and wooden benches, right where you cross the path coming from San Fruttuoso.
From here, always following the sign (

) continue uphill among the olive groves up to Olmi (250mt. Above sea level), where, on the right, you meet the detour to Nozarego .
The mainly flat path passes the Mulino del Gassetta (252mt, s.l.m.) (recently renovated, it is now a restaurant) and advances in the middle of the countryside; after a downhill stretch in a shady valley, the path passes next to some houses and cultivated strips reaching a small chapel, the Cappelletta delle Gave (168mt.a.s.l.).
From here, on the right, a steep mule track starts which, skirting stone walls and scattered houses, descends in about 20 minutes to the Paraggi car park, adjacent to a restaurant.
After a few meters on the carriage road, you will find on the right the access to the pedestrian path Paraggi - Portofino, recently renamed "Walk of Kisses"; a walk surrounded by greenery, parallel to the driveway below, which after a few ups and downs and stretches on the plain it will allow you to reach the famous village of Portofino.
The arrival in Portofino is heralded by an incredible view of the bay populated by luxurious yachts, Castello Brown, the Saint George church and the famous "Piazzetta"; the route ends in front of the church of San Martino.
* street reserved for the inhabitants of the area, accessible by scooters or small vehicles.
Unlock, view and download the trail track by purchasing a map.
Data sheet
Time

From 2h to 3h

Length Km

6 - 8

Difficulty

Low
100% secure payments
You might also be interested in