Portofino Vetta - Base 0 - San Fruttuoso - Pietre strette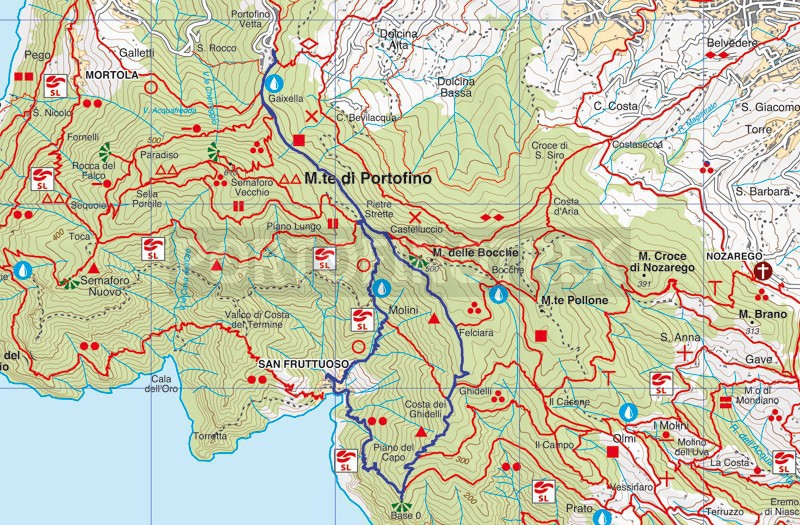  
Difficulty
Medium - High
Duration
3h 00'
Length km.
7,300
Footpath signs
+ + +
2m - 469m | 469m | 500m
Starting point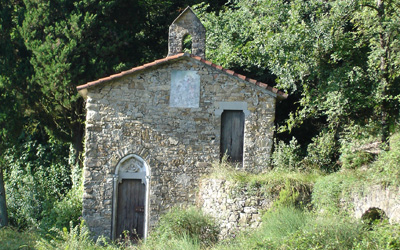 The trail, mostly flat with some gently sloping tract, starts from the entrance of the Park (420mt asl), just behind the hotel and passing beneath the Antenna TV appearance shortly after 5 'arrives in location Gaixella.
This small area, a crossroads of many paths (Semaforo Nuovo, Semaforo Vecchio, San Rocco), is equipped with benches, wooden tables and a drinking water faucet.
The journey continues maintaining the wide shady path that quickly and easily, comes to Pietre Strette, the center of Mount Portofino.
Here you go straight for a few meters to the crossroads, then turn right following the direction Base 0.
The trail, which follows the ridge of Mount and has much panoramic viewpoints ad, advancing on a slight slope up to Felciara (436mt asl), a clearing among the ferns equipped for parking.
In short time you meet the locality Ghidelli (393mt asl), which also includes a link to the path that leads to Portofino sea, and Costa dei Ghidelli, which have a small connection to the road that leads to San Fruttuoso from Pietre Strette.
The journey continues now comes down to location Base 0 (220mt asl), with trunks of trees where it is now used as a staging point the original shade, which, if you wish, you can go to Portofino sea.
As we are approaching San Fruttuoso the path is always more irregular and steep (the sign change in

), and views of the bay more and more breathtaking. We arrive at the heliport, and from here, passing through the houses of fishermen, one enters the picturesque village passing under the Doria Tower.
After visiting the village take the road back to the trail that starts behind the Abbey and follows the direction Torre Andrea Doria, which is reached by a short staircase.
From here a small path up, now very steep, advancing in a shady valley and along a stream. The curves are still among the bands and olive trees in a stretch sunniest, passing in front of a agririfugio Molini.
Beyond Casella location where there is a tap for drinking water, the trail enters the woods again and in about 20 minutes to get massive boulders, Pietre that mark location Strette (465mt asl), a stopping point with tables, benches and drinking water.
Taking the direction you go over the top of Portofino dell'andata road after about 20 minutes to get to the original destination.
Unlock, view and download the trail track by purchasing a map.
Data sheet
Time

From 2h to 3h

Length Km

6 - 8

Difficulty

Medium - High