Portofino Vetta - Semaforo Nuovo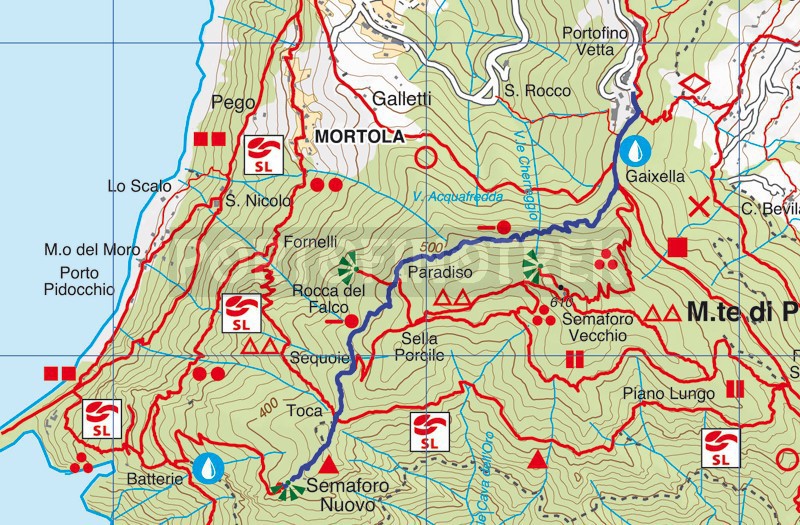  
Difficulty
Medium-low
Duration
40'
Length Km
2,430
Footpath sign
414m - 526m | 234m | 234m
Starting point
Entering the park, immediately behind the Kulm Hotel, continue on the main path that leads to Pietre Strette. After passing the rest area in Gaixella and the detour to San Rocco di Camogli, you leave the main path.
In fact, turning right, you proceed on the flat path (the uphill one leads to Semaforo Vecchio) which alternates sections shaded by the foliage of the trees with more panoramic sections; shortly after, the road begins to climb up to Paradiso where the refuge of the same name is built.
After passing the Paradiso refuge , we recommend that you leave the path and follow the indication that, going down to the right, in 5 minutes leads to the Rocca del Falco , a belvedere consisting of a small terrace overlooking Camogli and the whole Golfo Paradiso with a breathtaking view.
After this pleasant detour, continue your journey on the main path that easily reaches Toca , where you can take advantage of the shady wooden benches to take a break.
But now the destination is only 5 minutes away from here, in fact, following the path marked by a red triangle (

) , you can easily reach Semaforo Nuovo with its area equipped with benches and tables.
From this location not only you can enjoy a wide view that ranges from Capo Mele in the west to Isola del Tino in the east, but you can also observe the different types of vegetation in the Park and a large variety of birds; for this reason we recommend making the route on clear days.
Unlock, view and download the trail track by purchasing a map.
Data sheet
Time

Up to 1h

Length Km

2 - 4

Difficulty

Low
You might also be interested in