Portofino Vetta - San Lorenzo della Costa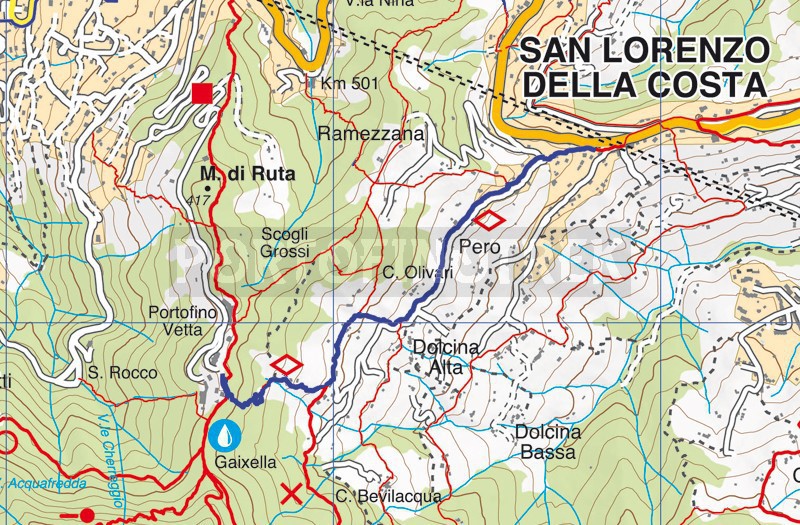 Once you have taken the access road to the Park, in front of the car park, continue behind the hotel to access the paths.
Here a first path is indicated that leads to San Lorenzo della Costa (Costa Ramezzana, Agriturismo il Monte, Violara, Km 501) but we must continue towards Pietre Strette, and after about 200 meters, turn left following the signs Dolcina - San Lorenzo della Costa , following the empty rhombus as a signpost.
The path begins with a stone stairway that descends through the woods and then passes through the well-kept strips of olive trees and reaches the first isolated houses.
As you get closer to Dolcina , a small group of beautiful houses, the view of Santa Margherita Ligure becomes more and more spectacular.
After passing the town, the path ends with an easy staircase that comes out in the upper part of via Giuntini, a driveway that descends through villas and gardens and which after about 800 meters crosses via Simone Stefani.
Here, going down to the right, you will soon reach the churchyard of San Lorenzo della Costa .
From here, for those who want to continue on foot, there are several possibilities: go down towards Santa Margherita Ligure, along Via Romana, the ancient mule track that you will find about 200 meters after the church, on the right; it is possible to go towards Rapallo via San Massimo or by following our Rapallo - San Lorenzo della Costa.
Unlock, view and download the gpx track by becoming a Supporter.
Data sheet
Time

Up to 1h

Length Km

0 - 2

Difficulty

Low
You might also be interested in