Portofino vetta - Base 0 - San Fruttuoso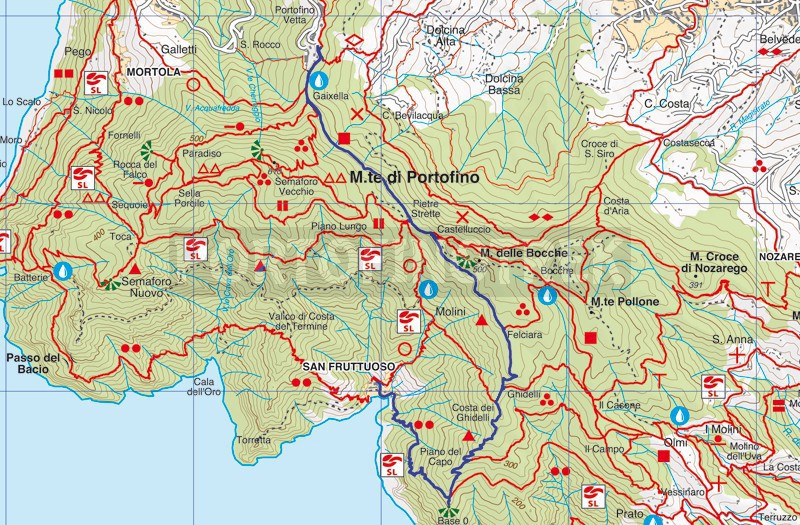 Difficulty
Medium
Duration
1h 40'
Length Km
4,800
Footpath signs
+ +
2m - 467m | 223m | 638m
Starting point
Arriving at Portofino Vetta (reachable by private vehicles or on foot from Ruta), take the access path to the Park located behind the luxurious Hotel.
Turn right and continue straight on the wide gravel path, ignoring various deviations you'll encounter. After a first rest area equipped with a table, benches, and a drinking water tap, in the locality of Gaixella, another one follows in the locality of Pietre Strette, an important crossroads of Monte di Portofino.
Continue past this picturesque spot, characterized by imposing conglomerate boulders, and proceed on the main trail at the intersection you'll encounter a few meters ahead. Here, turn right following the signs for Base 0.
The trail, which follows the ridge of the mountain and offers many panoramic viewpoints, gradually descends to the locality of Felciara, a clearing amidst ferns equipped for resting (to the left, you'll reach Bocche on the Portofino Peak - Portofino Sea axis).
In a short time, you'll reach the localities of Ghidelli, from where a connection to the path leading to Portofino Sea also starts, and Costa dei Ghidelli, from where a small connection to the road leading to San Fruttuoso from Pietre Strette begins.
The route, now descending, arrives at the locality of Base 0, where some tables with wooden benches have been placed and a small shelter has been created.
Passing the imposing rock, you can access, through a very short path recently cleared and equipped with support chains, an extraordinary natural terrace overlooking the sea, providing a breathtaking view.
Returning to the main trail, continue to the right towards San Fruttuoso on the path marked with

. The descent, which winds through the underbrush, becomes steeper and more irregular as you approach the village, but the views of the Abbey and the bay become increasingly enchanting.
Arrive at the heliport and from there, passing through the fishermen's houses, you'll reach the first small beach and then, passing under Torre Doria, you'll reach the Abbey and the heart of San Fruttuoso di Camogli.
Unlock, view and download the gpx track by becoming a Supporter.
Data sheet
Time

From 1h to 2h

Length Km

4 - 6

Difficulty

Medium
You might also be interested in