Portofino vetta - Base 0 - San Fruttuoso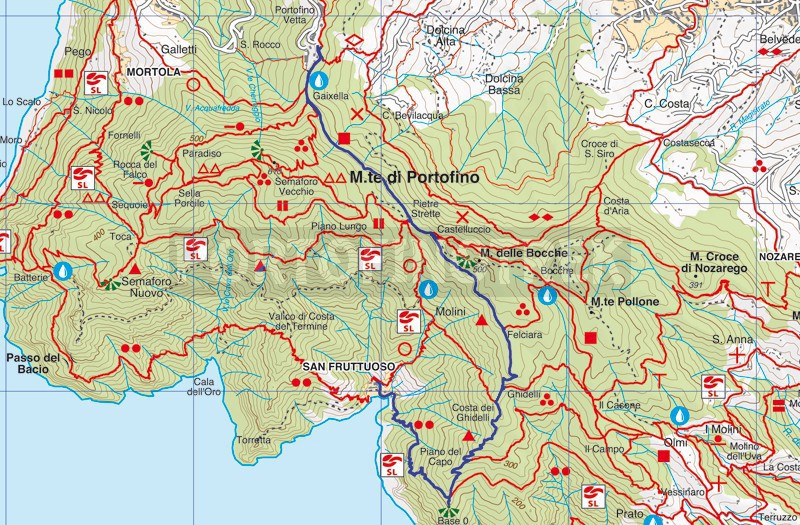  
Difficulty
Medium
Duration
1h 40'
Length Km
4,800
Footpath signs
+ +
2m - 467m | 223m | 638m
Starting point
Once in Portofino Vetta (with your own means or on foot from Ruta), take the access stairway to the Park which is located behind the Kulm Hotel.
Turn right and continue straight on the wide gravel path, ignoring the various detours you will encounter. A first rest area equipped with table, benches and drinking water tap, in Gaixella , is followed by another in Pietre Strette , an important crossroads of trails in the Monte di Portofino Park.
Pass this suggestive corner, characterized by imposing conglomerate boulders, and continue on the main path at the intersection that you meet a few meters ahead. Here, go right following the signs for Base 0.
The path has many panoramic points and advances on a slight slope to Felciara , an open space in the middle of ferns equipped with wooden tables and benches (on the left you reach Bocche on the Portofino Vetta - Portofino path sea).
In a short time you will meet the Ghidelli localities, from which also a connection to the path leading to Portofino mare, and Costa dei Ghidelli , from which starts a small connection that crosses the path that arrives at San Fruttuoso from Pietre Strette.
The journey, now continuing downhill, arriving at Base 0 , where some tables with wooden benches have been placed and a small shelter has been created.
Going beyond the imposing rock is possible access, through a very short path recently cleaned and equipped with support chains, to an extraordinary natural terrace overlooking the sea from which you can enjoy a breathtaking view.

Back on the main path, continue right to San Fruttuoso sul path marked by

. The descent develops in the middle of the bush and as you get closer to the village it becomes steeper and more irregular but the views of the Abbey and the bay also become suggestive.
In this way you get to the heliport and from here, passing through the fishermen's houses, you reach the first beach and then, passing under Torre Doria, the Abbey and the heart of San Fruttuoso di Camogli.
Unlock, view and download the trail track by purchasing a map.
Data sheet
Time

From 1h to 2h

Length Km

4 - 6

Difficulty

Medium
You might also be interested in