Zoagli - Montallegro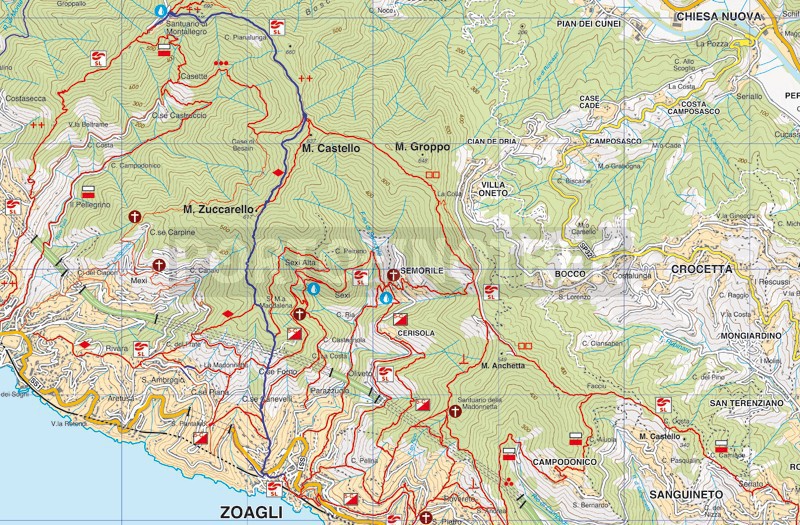  
Difficulty
Medium
Duration
2h 30'
Length Km
5,200
Footpath signs
4m - 631m | 796m | 200m
Starting point
This itinerary climbs from Zoagli to Montallegro in a more direct way; it is well marked by the indicators placed by the municipality of Zoagli up to the intersection with the S. Ambrogio - Montallegro ridge, where it will be possible to follow the red diamond sign

.
We start from Via XX Settembre, the small road which from Piazza di Zoagli climbs to the right to reach Via Aurelia, which you follow on the left for a few meters until you find the other side of the road < strong> Via Scoglio and the indicator n°70 (be careful because there is no pedestrian crossing so it would be advisable to proceed for another 180 meters, crossing the road and take Via dei Velluti which takes you to via Brea ; going up to the right after about 300 meters you will cross Via Scoglio again).
You go up the fairly steep stone staircase which soon becomes a mule track that continues to climb between typical cultivated land and after crossing an asphalted road (Via Bernabò Brea) you will arrive at an intersection where there is a private chapel, called Cappelletta of Sant 'Antonio . Following the signs towards Monte Zuccarello / Montallegro difficult to make a mistake, go straight up, first crossing the path that leads to Semorile and then the Forno-Vallette road .
Now the path enters the wood, upon reaching an intersection, where there is currently an indicator post with temporary signs canceled, keep left to join after about 600 meters with the path that climbs from Sant 'Ambrogio.
From here some passages are a bit narrow but they do not present particular difficulties.
After a short stretch equipped with a ruler (which needs some maintenance) from which a spectacular view opens on Zoagli and the Levante coast , you will arrive at Monte Zuccarello recognizable by the presence of a small votive chapel.
Continue to the left following the signpost; the path proceeds fairly flat with some ups and downs paying attention to some more treacherous passages due to the ground subsidence.
Once you reach the slopes of Monte Castello, always following the

, with a pleasant walk of about 20 minutes you reach a restaurant and bar with outdoor tables overlooking Rapallo and therefore after about 10 minutes to the Sanctuary of Montallegro.
Unlock, view and download the trail track by purchasing a map.
Data sheet
Time

From 2h to 3h

Length Km

4 - 6

Difficulty

Medium
You might also be interested in