Zoagli - Cappelletta della Maddalena - Semorile - Zoagli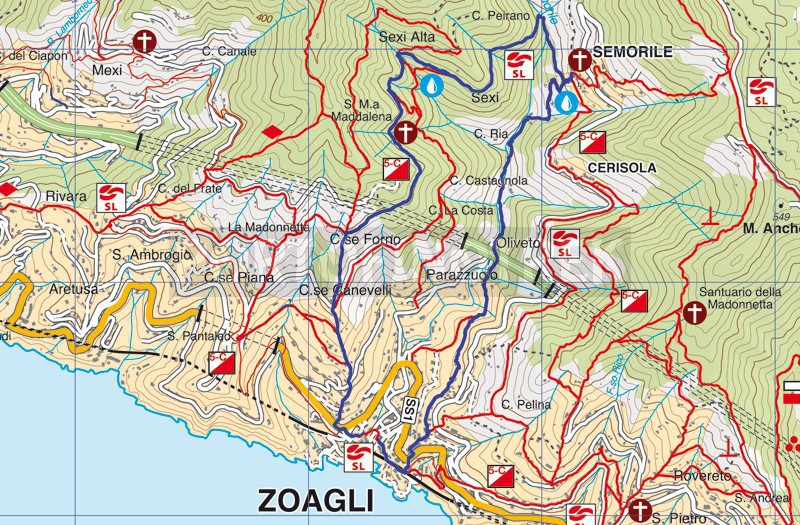  
Difficulty
Medium
Duration
3h 10'
Length Km
7,300
Footpath signs

NONE

2m - 314m | 651m | 652m
Starting point
The starting point of this circular trail, which rises from zero meters above sea level to high altitude, is in Zoagli's square taking Via XX Settembre continuing to the right arriving on Via Aurelia. Here we continue to the left for a few meters, crossing it (be careful because there is no pedestrian crossing so it would be advisable to proceed for another 180 meters, cross the road and take Via dei Velluti which takes you to via Brea; going up to the right after about 300 meters crosses Via Scoglio again) and taking Via Scoglio, a stone staircase that climbs quite steeply. At the crossroads continue in front on Via Scoglio (on the left you will arrive at the Gaggioli velvet factory), skirting the wall of Merello's Park.
In short, the path becomes the classic Ligurian mule track in "Risseu" which climbs between the strips to cross an asphalted road (Via Bernabò Brea) and it arrives at an intersection where it stands a private chapel, called chapel of Sant 'Antonio, our itinerary continues straight ahead, following the signs for Monte Zuccarello/Montallegro.
At the next intersection we are in locality "Forno" where you keep right, towards Semorile.
The flat path crosses land formerly cultivated with wheat, barley, broad beans, grapevine and chestnut.
Arriving at the indicator pole you can choose whether to continue straight through the church of the Maddalena (recommended for those who make the route for the first time) or take the path on the right that descends towards Zoagli/San Pantaleo. We followed this last one, a nice slightly sloping path to arrive at an intersection where a white writing " Alla Fonte " on a stone on the ground invites you to continue to the left.
This is a path that passes next to a spring and then under the abandoned village of Sexi to rejoin the one that comes from the church and descend quite steeply towards Semorile where you will arrive from below, after crossing a small bridge.
Go up a few steps in the direction of the church (here there is a drinking water tap) to follow the signpost to the right

which crosses the village and then descends on the paved road, which you must follow until you find on the left Via dei Frantoi, locality Oliveto.
The path climbs, passes through the houses and arrives at a crossroads: continue uphill to the left and then continue straight ahead, ignoring the deviations, until you'll meet the marker post 12a/12b.
Here go down to the right and continue straight on reaching place Castello, and then the Via Aurelia which you will cross until you arrive above the station and, skirting the railway to the right and returning to the starting point, the Zoagli square.
Unlock, view and download the trail track by purchasing a map.
Data sheet
Time

From 3h to 4h

Length Km

6 - 8

Difficulty

Medium
100% secure payments
You might also be interested in