Case Cornua - Sussisa - Canepa - Levà - Case Becco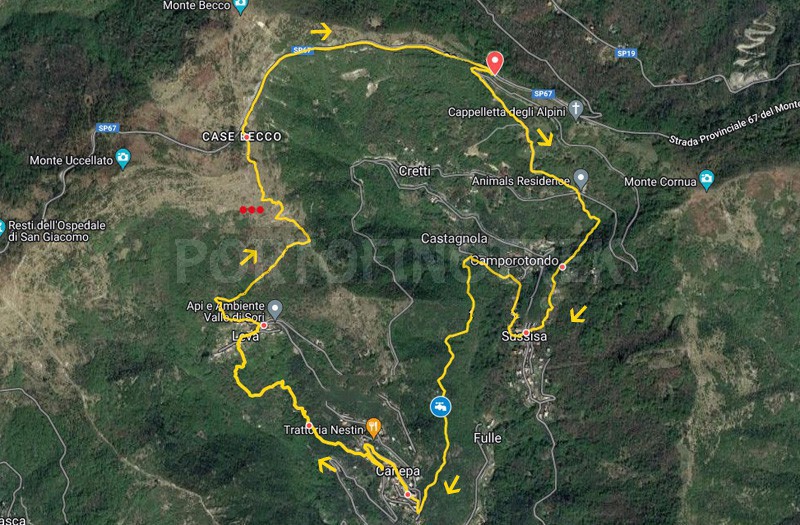  
Difficulty
Low
Duration
3h 30'
Length km.
8,600
Footpath sign
242m - 723m | 566m | 565m
Starting point
The itinerary starts at Case Cornua, a locality in the municipality of Sori, bordering the municipality of Lumarzo, on the provincial road of Monte Fasce. Here, you descend along the provincial road of Monte Cornua (Via Bisagno), and after the first hairpin turn, you take the trail descending to the right. After approximately 400 meters, you pass behind a beautiful rustic building with wide meadows. Continuing the descent, you cross the road, and by crossing it and continuing downhill, you reach the village of Massiglione. You proceed straight ahead and shortly after, you arrive at Sussisa.
Once you reach the road, you will see the sign indicating the direction of Canepa right in front of you. You descend along the trail, which may initially appear a bit abandoned, but then it becomes interesting and very pleasant. After a short stretch, you cross a beautiful Romanesque bridge built over a stream that forms small waterfalls just below it.
Continuing, you pass by a beautiful renovated rustic building where there is also a fountain nearby, until you reach the area behind the small chapel of Canepa, after about 2 km. You climb the staircase behind to reach the churchyard of the Church of Santa Maria Assunta di Canepa..
You continue along the drivable road, descending for about 400 meters, where you encounter and take a pedestrian path on the right that provides access to some houses. Shortly after, it descends and becomes a trail. Initially, it's quite intuitive, but at the first junction, you need to climb into a chestnut forest. Sometimes the trail is not very well maintained, especially towards the end, just before reaching the beautiful village of Levà, approximately 1.5 km away, on the churchyard of its church.
Right next to the church, you take the trail towards Case Becco. At the first junction, you continue towards Croce, which you reach after approximately 800 meters from Levà.
Here, you ascend towards Case Becco, following the trail marked by the trail marker

e dal

, a route of approximately 800 meters, all uphill, with a significant slope.
Judging by the width of the mule track, it can be inferred that in the past, this was a highly important and frequently traveled commercial route. The section offers breathtaking views, passing behind the remains of an old ropeway used for transporting materials, until reaching the beginning of a short exposed section, just a few meters long, which emerges in Case Becco. There, you will find a cluster of houses and a small chapel.
From here, you continue along the provincial road of Monte Fasce towards Case Cornua, which you reach after 1.3 km, marking the end of this itinerary.
Unlock view and download the trail track by purchasing a map.
Data sheet
Time

From 3h to 4h

Length Km

8 - 10

Difficulty

Low
100% secure payments