Sestri Levante - Cavi borgo - Santa Giulia - Lavagna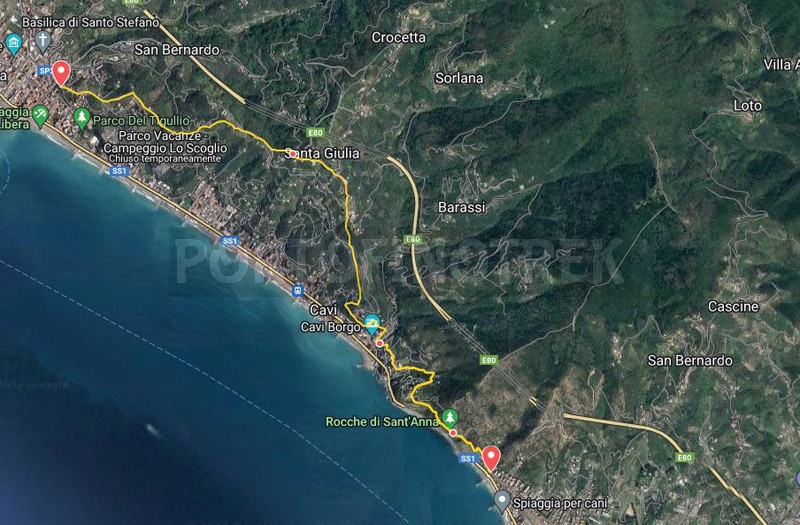  
Difficolty
Low
Duration
2h 15'
Length Km
6,200
Footpath signs
   +
3m - 244m | 430m | 433m
Starting point
This is an itinerary that connects Sestri Levante to Lavagna through scenic trails.
The starting point is in Sestri Levante in Via Antica Romana Occidentale near the Sant'Anna Camping where a panel indicates two possibilities to go up to the Rocche di Sant 'Anna: take the path on the left, the most direct route climbs steeply on stone rocks offering splendid views of the bay and in a few minutes and in just over 400 meters arrives at a rest area, where there are a wooden table and benches.
A few meters to the left and you are at Rocche di Sant 'Anna , a highly suggestive location due to the presence of the ruins of the ancient church of Sant' Anna, a place of worship active until the early twentieth century , surrounded by a landscape of extraordinary beauty.
A unique scenario that also characterizes the first part of the path that leads to Cavi di Lavagna , where you reach, after crossing and following the sloping road for a couple of times, with a ladder that goes down between the houses.
Cross the main street of the village to enter the pedestrian alley and immediately turn right, passing between the buildings you reach a staircase that leads to Via della Pineta, which you walk to the left for about 400 meters .
Near a curve to the right you can find the path on the mountain side that climbs up between the bands, skirting private houses and ruins until it comes out in Via San Michele.
The mule track continues right in front of it always uphill, passing by a remarkable point both from the landscape point, from here you can admire the coast, and historical for the presence of the Chapel of San Michele di Centaura dating back to the Lombard period unfortunately today, in a state of decay.
Continuing through a very picturesque corner of Santa Giulia , with ancient well restored stone houses, to arrive on Via Costa and then, following the trail sign of the Sentiero Liguria

, to Via alla Chiesa which leads to the main road.
Going along it, on the left, you pass under the church to find, a few meters later, the path which, initially descending into the woods, and then crossing the beautiful countryside between cultivated bands and olive groves, reaches the first homes.
This stretch of the route, marked by the F.I.E. by

with a descent of about 30 minutes it takes you to the center of Lavagna, in Via Monte.
It is possible to return to Sestri Levante by train or by bus.
Unlock, view and download the trail track by purchasing a map.
Data sheet
Time

From 2h to 3h

Length Km

6 - 8

Difficulty

Low
100% secure payments