San Fruttuoso di Camogli - Base 0 - Portofino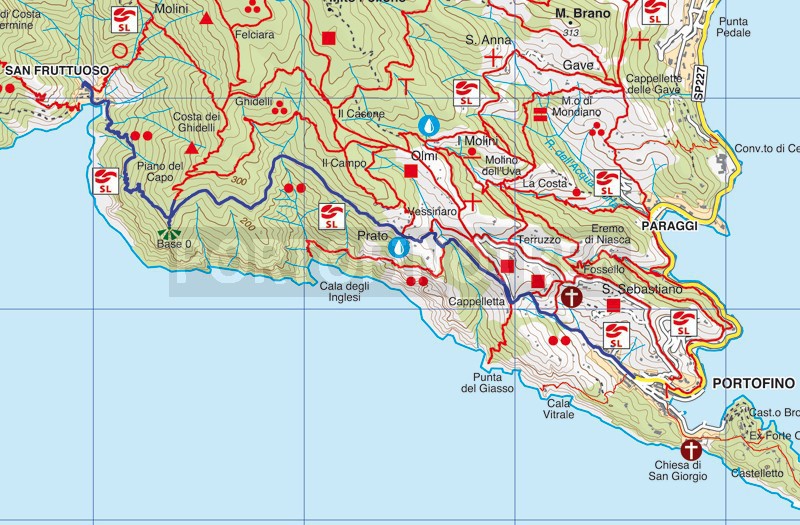  
Difficulty
Medium
Duration
2h 50'
Length km
4,200
Footpath signs
 
3m - 262m | 474m | 469m
Starting point
This route is for those arriving in San Fruttuoso from San Rocco di Camogli or Portofino Vetta wish to return along a different path.
Along the way there are no sources of water so it is advisable to make a sufficient supply before leaving.


From the small square in front of the church of San Fruttuoso take the small road, passing under Tower Doria, leading to the pebbled beach and goes between the houses of fishermen. Arriving at the base of the helicopter landing awaits a steep uphill climbs, and irregularly in the woods giving you some wonderful views.
After about 40 minutes you are in a detour, Base 0, the military post World War II. On the left, climb to Portofino Vetta, you, however, keep the right path that follows the western side of the Promontory.
The path is now little challenging, but incredibly beautiful. The trail, which alternates between up and down to the plains to numerous protruding boulders, runs entirely on the sea showing the bays below.
Only at the point you get away from the ridge to cross a valley shaded source of relief in particularly sunny days.
Come to a junction, near some houses, go straight down a steep but short road that leads to a grove of chestnut trees. Shortly after, in the locality Vessinaro, miss the right turn that goes down to Cala des Anglais, to keep up the narrow path and level that advance hour surrounded by countryside.
At the fork (the left goes up to Portofino Vetta) continue straight to reach the places Cappelletta, where, beneath a small chapel, find a gate that you must cross.
Get off the trail, ignoring deviations reaching after few minutes Portofino
Unlock, view and download the trail track by purchasing a map.
Data sheet
Time

From 2h to 3h

Length Km

4 - 6

Difficulty

Medium
You might also be interested in