San Fruttuoso di Camogli - Base 0 - Portofino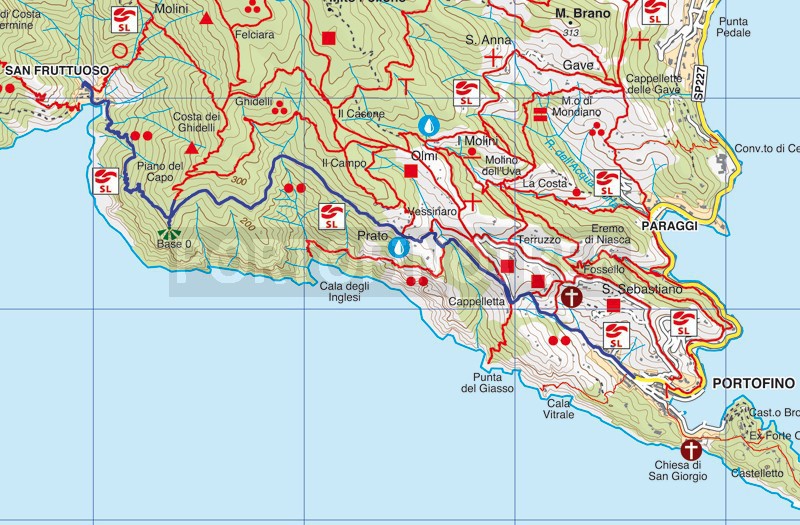  
Difficulty
Medium
Duration
2h 50'
Length km
4,200
Footpath signs
 
3m - 262m | 474m | 469m
Starting point
This itinerary is for those who arrive in San Fruttuoso from San Rocco di Camogli or from Portofino Vetta and wish to return by taking a different trail.
From the small square in front of the church of San Fruttuoso, take the path that passes under Torre Doria and leads to the pebble beach, then continues between the fishermen's houses. When you reach the helicopter landing base, a steep and irregular climb awaits you, winding through the forest and offering beautiful panoramic views.
After about 40 minutes, you reach a fork in the road, Base 0, a military post from World War II. To the left, the path leads up to Portofino Vetta, but you should keep to the path on the right, which follows the western side of the promontory.
The trail is now relatively easy but incredibly beautiful. Alternating between stretches of flat ground and numerous ups and downs between jutting rocks, the path offers stunning views of the sea and the coves below. Only briefly do you leave the panoramic view to cross a shaded valley, a source of relief on particularly sunny days.
Once you reach the locality Prato, where there is also a tap with drinking water, continue straight down a steep but short road that leads to a chestnut forest. Shortly after, in the locality Vessinaro, ignore the right turn that leads down to Cala degli Inglesi and continue on the narrow, flat path that now advances through the countryside.
At the fork (to the left, the path leads up to Portofino Vetta), continue straight ahead to reach the locality Cappelletta, where you will find a gate to cross under a small chapel.
Get off the trail, ignoring deviations reaching after few minutes Portofino
Unlock, view and download the trail track by purchasing a map.
Data sheet
Time

From 2h to 3h

Length Km

4 - 6

Difficulty

Medium
100% secure payments
You might also be interested in