Short trail ring from Testana to Monte Cornua and Monte del Pré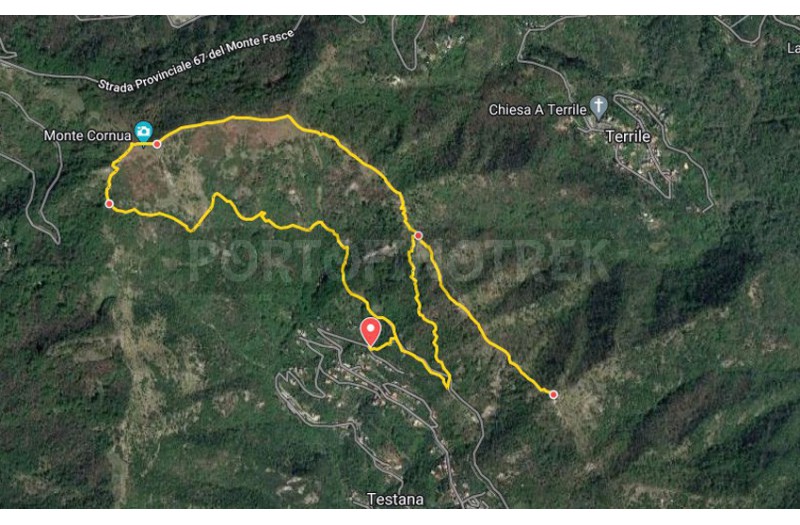  
Difficulty
Low
Duration
2h 30'
Length Km
5,900
Footpath sign
365m - 680m | 395m | 396m
Starting point
This is a short itinerary suitable for everyone that starts from Testana, a quiet hamlet of the municipality of Avegno that is just over 6 kilometers away from the center of Recco (from the center, follow the direction of Uscio and turn left after about 1 kilometer), and climbs up the ridge surrounded by beautiful views.

The circular route starts from Via Co' di Serro, where just before the end of the road, a stone staircase climbs up along the cultivated terraces and after a few meters, arrives between two inhabited houses. After passing them, turn left.
You will walk along this pleasant path through woods and cultivated terraces, with several panoramic views over the valley. After about 900 meters, you will reach "Fonda", and after another 600 meters, you will arrive at a crossroads from which you can take different directions.
After turning right, you will start the short but steep climb to Monte Cornua, from which a breathtaking 360-degree view opens up that you will never tire of admiring.
Here, you will see the "Colombian Historical Itinerary" (ISC) footpath signpost

. Follow it eastwards, beginning to descend until you reach a crossroads after about one kilometer: turning right leads back to Testana, while turning left leads down to Calcinara.
Our itinerary includes a short detour from the original path here to reach the summit of Monte del Pré, which can be reached after about 15 minutes of walking along a path that is not always clear, especially in the final part when it climbs up to the top.
But the tranquility of the location and the surrounding panorama are worth a visit and a stop.

You will return on the same path as the outward journey until you reach the previously overlooked crossroads, where you will turn left and descend towards Testana. After about 20 minutes on the path that winds through the woods, you will arrive at Via Cappelletta, where you will turn right (worn wooden signs indicate Case Cornua and Monte Cornua) to return to the two houses encountered at the beginning.
Descending the staircase again, you will find yourself back at the starting point, where this pleasant itinerary ends.
Unlock, view and download the trail track by purchasing a map.
Data sheet
Time

From 2h to 3h

Length Km

4 - 6

Difficulty

Low