Rapallo - Sant Ambrogio - Semorile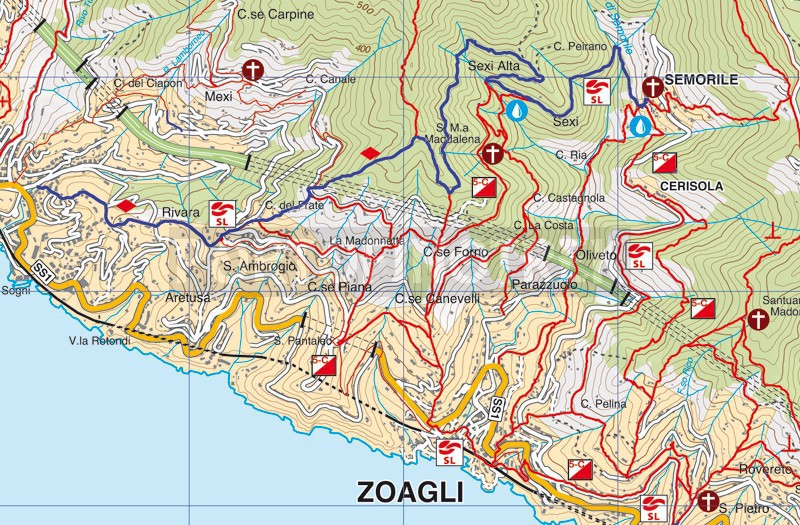 Difficulty
Medium
Duration
2h
Length Km
4,700
Footpath signs
+
10m - 313m | 193m | 394m
Starting point
The starting point of this itinerary is located on Via Pietrafraccia, a side street off Via Aurelia to the east, across from the entrance of the mini golf course. Take Via Sant'Ambrogio, a footpath you encounter immediately on your right. The trail consists of a steep cement staircase that winds its way between high boundary walls, interrupted by some flatter and more open sections from which you can enjoy beautiful views of Rapallo.
Upon reaching the intersection with Via Linare, continue left along the "creuza" that ascends between terraced fields and small villas, and emerges onto a small square where, on the left, you'll find the staircase leading to the Sant'Ambrogio church. Here awaits a wide panoramic view from Rapallo to Portofino. On the square, you'll also find a tap with drinking water for potential refilling.
Go past the church and continue on Via San Bernardo, the paved road in front of you, for about 50 meters, then leave it and continue on the footpath to the right of the small white chapel (Via Della Liggia). You'll immediately come to a fork, continue to the right, following the signs for Maria Maddalena/Semorile.
The narrow trail passes behind houses to emerge onto a cemented road that we must follow uphill, turning left until it ends and a well-marked path begins. Continue straight, ignoring some deviations that you encounter to the right and left, along the well-maintained trail that offers some panoramic glimpses before winding into the woods and arriving at the small chapel of Santa Maria Maddalena. Here, on the first Sunday of August, a festival takes place, attended by all the inhabitants of the area.
After passing the church, the road begins to descend into the woods and reaches the small, panoramic abandoned village of Sexi (pronunciation: Seigi), divided into an upper and a lower part. From here, the trail starts to descend quite steeply with wide stone steps. After crossing a small bridge, you find yourself in Semorile, a small hamlet of Zoagli, consisting of a cluster of houses and a church that can be reached by going up to the left.
We returned to Rapallo following the same path as the outward journey, but for those who want to complete the full circuit, it's possible to descend to Zoagli and then, if desired, return to Rapallo using public transportation.
Once you reach Semorile, you can descend towards Zoagli as clearly indicated on the signpost.
Click here for showing the path on the map
Unlock, view and download the gpx track by becoming a Supporter.
Data sheet
Time

From 2h to 3h

Length Km

4 - 6

Difficulty

Medium
You might also be interested in