Montepegli - Manico del Lume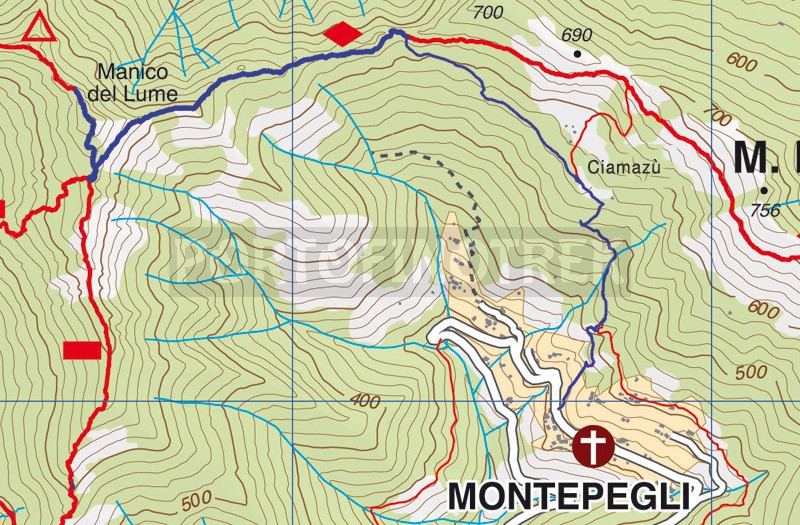  
Difficulty
Medium
Duration
1h 30'
Length Km
2,400
Footpath sign
  + 
318m - 801m | 486m | 28m
Starting point
Here we propose an itinerary to reach Manico del Lume which does not yet have F.I.E signs but is clean and so evident.

The departure is from Montepegli , a small hamlet of Rapallo reachable from the motorway tollbooth following the direction to San Pietro di Novella and, continuing to the right after passing the cemetery.
Once you reach the first houses of the small village, park your car in the first available place along the road and continue until you find, on the left side of the mountain (near a bend), a very artisanal sign indicating the direction to Cian Mazù, Manico del Lume , Rifugio Margherita

.
Take the concrete staircase here and continue uphill, following the path which at a certain point crosses a private road.
You will soon reach a crossroads: we have kept the left because it is the shortest way but it is also possible to go right as the paths then reconnect.
A little further uphill in the woods to arrive after about 500 meters, on a plain called Cian mazùn where there is a beautiful stone cottage and a cableway used to transport wood.
A plain especially during spring when it is covered with a carpet of daisies.
There are two signs here: one indicates the direction to the Rifugio Margherita on Monte Pegge and one at the bottom left indicating the Manico del Lume direction

. We choose the latter and walking on the flat we find ourselves on a path initially wide and very well kept, where you can see the remains of ancient cottages, which then continues uphill in the woods to come out at the base of a hill characterized by large stones and a couple of hiding places in wood and leaves, used by hunters, known as Ciassea (or Ciazzea )
Here it is inevitable a stop to enjoy the magnificent view of the Golfo de Tigullio.

Here continue to the left intercepting the path coming from Passo della Crocetta, with footpath sign

, which leads to the Manico del Lume through a climb that gradually becomes steeper but exciting until you reach the summit at 801 meters. a.s.l. where it is has a wonderful 360 ° panoramic view.
Unlock, view and download the trail track by purchasing a map.
Data sheet
Time

From 1h to 2h

Length Km

2 - 4

Difficulty

Medium
100% secure payments