Paraggi - Valle dei Mulini - Olmi - Crocetta - Gave - Paraggi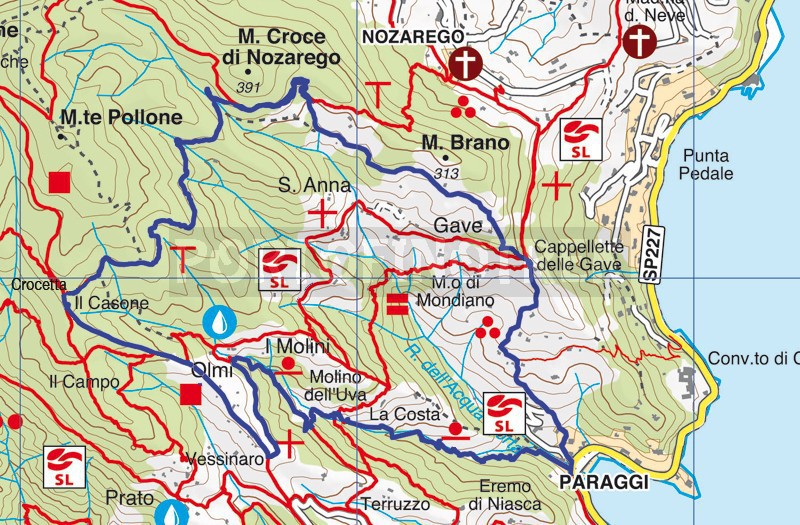 Avoiding parking problems (especially during the summer), we recommend reaching Paraggi by bus which leaves Santa Margherita Ligure in Piazza Vittorio Veneto every 30 minutes.
The route begins at the end of the Paraggi car park, with the stairway, on the left, which climbs up into the so-called " Valle dei Mulini ".
In fact, along the way, you will be able to see what remains of the 35 mills that once worked in this area; a series of descriptive panels illustrate the various functions.
The path, consisting mainly of stone steps, develops in a shady valley, skirting a small stream in the first part. Near some mills, now transformed into homes, the path comes out of the scrub and through the thick vegetation you can glimpse a slice of the sea.
After the last ramp in the shade of chestnut trees, you arrive at Mulini (252mt.a.s.l.) crossing the path coming from Nozarego; turning left, after 10 minutes, you will reach Olmi, on the Portofino mare-Portofino peak axis.
From Olmi (260 meters above sea level) continue to the right, towards Portofino Vetta on the pebble path that winds through pines and chestnut trees, up to Crocetta (363 m asl), where on the left, the branch for Nozarego starts.
The first part of the route takes place entirely in the middle of a forest full of ferns and majestic maritime pines, with an initial uphill stretch followed by a slight slope that descends to il Monte (on the left you can reach Santa Margherita Ligure, passing through Nozarego).
Here on the left, the path advances towards Gave-Paraggi, among olive and chestnut trees offering panoramic views of the Portofino promontory. Here is the arrival at Il Frate , a pleasant little-frequented stretch in the middle of the meadows where you pass by some houses.
Back in the woods, the path begins to descend, emerging in front of the Cappelletta delle Gave , where we meet the only drinking water tap of the entire route.
The steep descent, to the right of the chapel, in about 15/20 minutes, winding through the typical Ligurian "Fasce" and high enclosure walls, takes us back to the car park in Paraggi .
Unlock, view and download the gpx track by becoming a Supporter.
Data sheet
Time

From 1h to 2h

Length Km

4 - 6

Difficulty

Low