Nozarego - Punta Giasso - Nozarego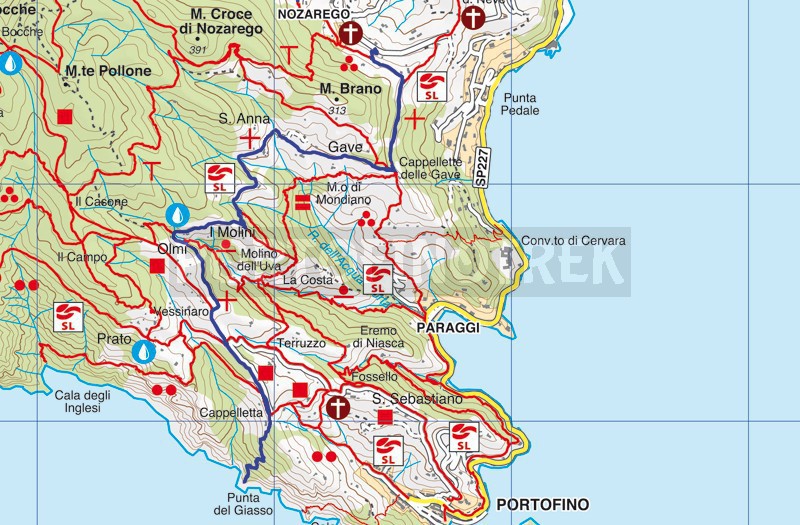  
Difficulty
Medium-High
Duration
2h 40'
Length Km
7,600
Footpath signs
+
1m - 263m | 299m | 442m
Starting point
Update of 05/07/2020: The panel of the Portofino Park Authority indicates "Difficult path that does not allow access to the sea".
Punta del Giasso was one of the few coves reachable by foot through the paths of the Portofino Park but due to the storm that hit Liguria in 2018, the access ladder to the sea was destroyed and a chain was placed preventing the passage.
However, it remains an adventurous excursion that ends overhanging the sea
Once in Nozarego , take the well signposted path you meet a few meters after the church. After the initial climb, a very panoramic flat stretch follows which on particularly clear days allows you to see the whole Ligurian coast of the east from Rapallo to the Tino island. After a few minutes, you arrive at a yellow chapel, Cappelletta delle Gave , from here continue on the cobbled path to the right (

) that climbs along the wood.
The path, very pleasant, develops mainly between typical cultivated land called "Fasce", with the exception of a few short passages in the woods, and alternates flat sections with some short climbs. Along the way, among beautiful renovated houses, it is still possible to see some old farmer's houses.
After passing a small votive shrine dedicated to Sant'Anna, you will soon reach the Mulino del Gassetta , an old renovated mill, today it is a restaurant. Here, in the shade of the forest, you will also find tables, wooden benches and a fountain with drinking water.
Continue straight ahead, ignoring the detour to the left that descends to Paraggi along the Valle dei Mulini, to arrive in the locality < strong> Olmi , where you take the Portofino Vetta - Portofino mare path.
Here, turn left and go down until you reach an intersection where you will find a table with wooden benches. Go beyond it and continue straight on the path, very well maintained, in stone and paving which leads you to Cappelletta. Go beyond the beautiful house surrounded by a high enclosure wall to continue on the narrow path on the ground until you meet the signs for Punta del Giasso .
There is no signpost on this path, but there is no possibility of making a mistake because it is a single well-marked path, which goes straight down to the bay without encountering any deviations. The ground completely covered with leaves makes the path a bit slippery, especially in the first part, so it is recommended to wear suitable shoes.
The path of earth and rock, framed by a splendid natural scenery, penetrates the lush vegetation gradually losing altitude, arriving, with a series of hairpin bends, overlooking the sea.
To go back, follow the same path to go back to Nozarego.
Alternatively, arriving in Cappelletta it is possible to follow the signs towards Portofino.
Unlock, view and download the trail track by purchasing a map.
Data sheet
Time

From 2h to 3h

Length Km

6 - 8

Difficulty

Medium - High
100% secure payments