Ring trail from Nozarego to San Fruttuoso di Camogli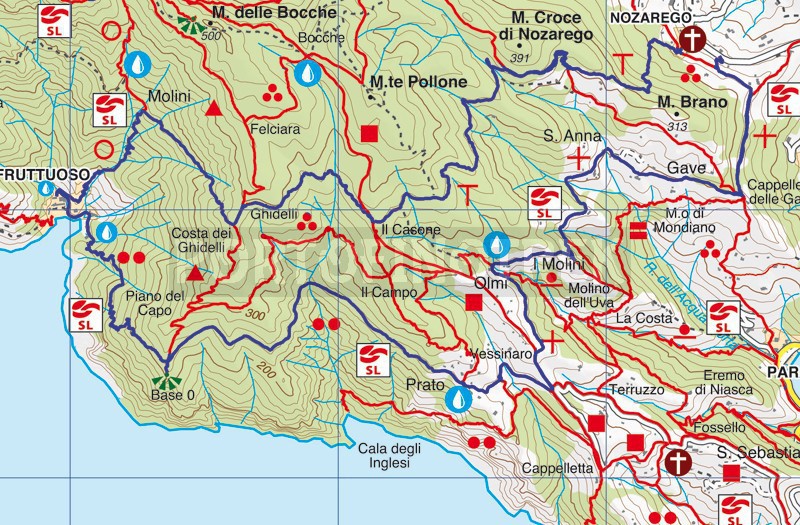  
Difficulty
Medium
Duration
4h 00'
Length Km
11,600
Footpath sign
  + + + +
5m - 386m | 666m | 657m
Starting point
This is an unusual route to reach San Fruttuoso di Camogli starting from Nozarego, crossing the different areas of the Portofino Park, from the shady and cool woods, to stretches of path overlooking the sea, with breathtaking views.
We recommend starting with a good amount of water because there are no drinking water faucets up to San Fruttuoso
Nozarego can be reached by private vehicle, by Bus or walking from Santa Margherita Ligure.
The trail begins with the staircase behind the church which passes next to the small cemetery and climbs into the woods following the "path of the animals" un to Il Monte, first panoramic point of the route.
Here, continuing to follow the signpost

, we climb towards Crocetta on a very pleasant path in the Mediterranean scrub between chestnut trees and imposing maritime pines, mainly uphill but with some flatter sections that mitigate the fatigue..
In about 30 minutes you arrive at Crocetta, crossing the path that connects Portofino Vetta with Portofino mare, where a bench has been placed near the illustrative panel of the Park.
Ignoring and crossing this path, you follow the link which soon reaches Ghidelli; here go down to the left for about fifty meters up to "Costa dei Ghidelli" where you have to turn right, always accompanied by the same footpath sign

, descend into the woods for about 20 minutes in a fairly steep way and which ends in Molini, above the homonymous agririfugio , from where a postcard view opens up.
Now follow the path that descends to the picturesque village of San Fruttuoso di Camogli dominated by the enchanting abbey, overlooking the beach.
Here there is a drinking water tap close to the church main entrance and another one is on the path leaving the village towards Base 0, as well as having the opportunity to try the various restaurants and bars.
To go up, you have to cross the village, passing between the fishermen's houses in the La Cheta hamlet and passing the two small beaches, follow the path to the east, marked with

you'll meet the helicopter landing pad and more continuing to climb inside a beautiful forest of holm oaks and pines which offers glimpses of the sea. In 30 minutes you will arrive at Base 0 where we recommend going around the rock on the right to access the natural terrace overlooking the sea.
We continue on the magnificent path halfway up the slope that proceeds flat with some ups and downs, up to Prato , where you meet some houses and some cultivated land. Here there is also a drinking water tap.
Proceeding along the short but steep concrete descent, you will pass close water reservoir in Vessinaro and you reach an intersection where a wooden table and benches are been set.
From here we go uphill following the

up to Olmi where you leave it to continue right on the path marked by

which proceeding mainly on the flat, meets the Mulino del Gassetta (refreshment point) and in about 20 minutes it reach Gave, easily recognizable by the yellow church. Keeping to the left you will soon reach the driveway where this trail began.
Unlock, view and download the trail track by purchasing a map.
Data sheet
Time

From 3h to 4h

Length Km

10 - 15

Difficulty

Medium
You might also be interested in