The trail of animals in the Portofino Park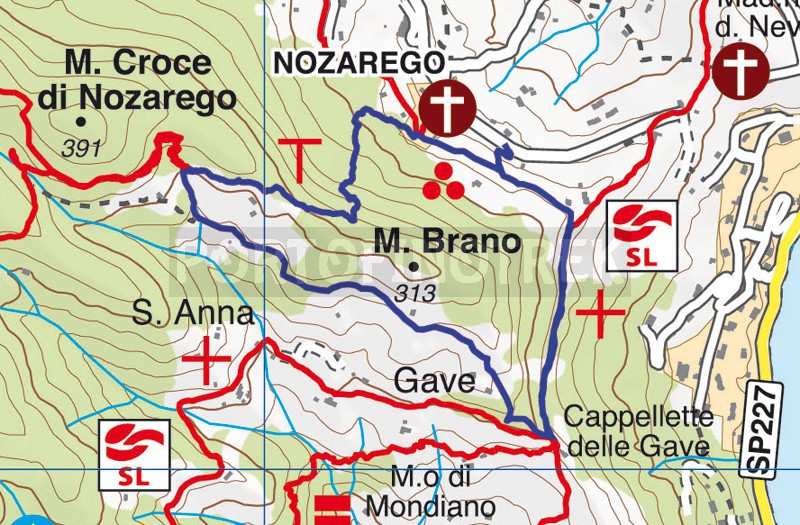 Difficulty
Low
Duration
1h 20'
Length Km
2,500
Footpath signs
142m - 308m | 225m | 228m
Starting point
This itinerary we are proposing to you has been called Trail of Animals, and it is a short itinerary in the Portofino Park very suitable for families because 14 wooden sculptures have been placed along the route of animals in the park, which children will have fun discovering.
The route starts in Nozarego, a hamlet of Santa Margherita Ligure which can be reached by car or motorbike or by bus, with the entrance path to the Park which is located about one hundred meters after the church.
After the first uphill stretch, the path continues on a flatter trail, offering wide panoramic views of the gulf, shortly arriving at Gave , easily recognizable by the presence of a small yellow church.
Here , where the first of a series of illustrative panels has been placed, we follow the path that starts immediately to the right which climbs into the woods.
After passing a bollard for wild boars ,about one meter long (the passage with dogs here is not recommended), the path proceed along a private property and then continue flat to the left, where you can often see some donkeys so happy to meet people, and that continues in a beautiful chestnut wood, particularly fascinating during the autumn season when the fallen leaves form a colorful carpet.
Arriving at a crossroads, continue straight ahead to tackle a short climb which, after passing a wooden construction, leads to a second intersection where another panel indicates to continue right to begin closing the Wild life trail.
After a short flat stretch , with a very open view of the coast and the other side of the Promontory, the descent into the woods begins which in about 15 minutes ends behind the Nozarego cemetery, from where you can reach the road going down the concrete ladder or continuing straight ahead to arrive exactly at the starting point.
Unlock, view and download the gpx track by becoming a Supporter.
Data sheet
Time

From 1h to 2h

Length Km

2 - 4

Difficulty

Low