Ruta - Portofino Vetta - Gaixella - San Rocco - Camogli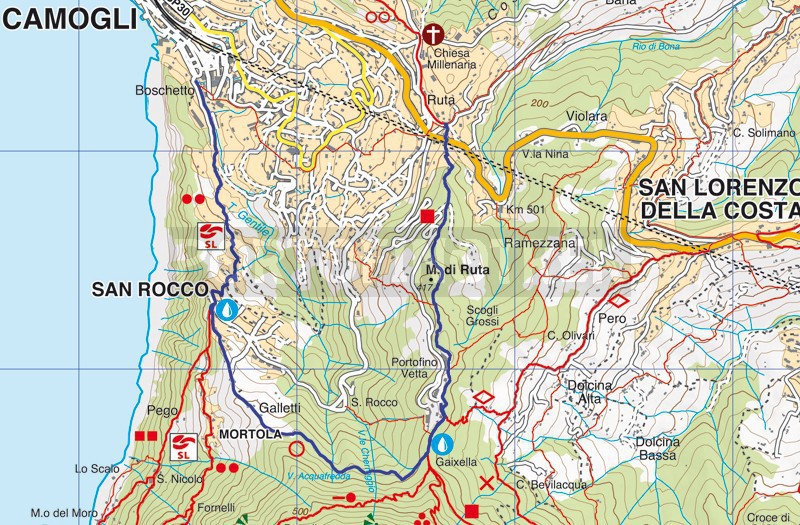  
Difficulty
Low
Duration
2h 10'
Length km.
4,600
Footpath signs
+
13m - 424m | 214m | 481m
Starting point
This walk includes the departure from Ruta, and arrive in Camogli, so remember that the two resorts are linked by buses of AMT.
Through the steep stairs that are next to the gallery Ruta of Camogli, reach the church of St. Michael the Archangel to take Via Gaixella.
The trail begins with a series of concrete steps that go between the houses and then continues with a shaded cobblestone in the woods.
In short you get behind the hotel in Portofino Vetta, where, after passing the bar, you go straight towards Pietre Strette.
Joints staging area, with benches and wooden tables in the locality Gaixella, leave the main path and turn right and follow
the path marked by an empty circle which passes through the chestnut forest and begins to descend.
After crossing a small altar, the trail leaves the dense bush to continue through olive groves and cultivated fasce, until reaching the village of Galletti, where you can admire the facades of the houses and along the path, features hand-painted tiles that cover the stages of the Via Crucis.
An incredible scenery that spans the gulf from Punta Chiappa to Capo Mele is the background to this last stretch of path that ends behind the church of San Rocco di Camogli.
From here you can continue to Camogli go downstairs to the courtyard in front of the church through the tiny village.
The descent is pleasant, cross fasce and cultivated through pretty villas and country houses up to the beginning of Via del Boschetto, alongside the stream Gentile.

From there just 300 meters separate you from the typical promenade of Camogli, Brought to life by restaurants, ice cream bars and curious little stores

Unlock, view and download the trail track by purchasing a map.
Data sheet
Time

From 2h to 3h

Length Km

4 - 6

Difficulty

Low
100% secure payments