Portofino - Punta del Giasso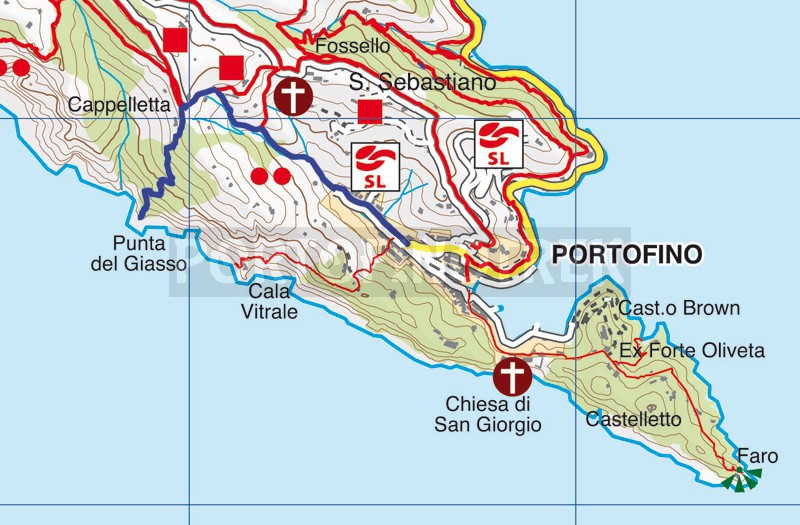 Difficulty
Medium - high
Duration
45'
Length Km.
1,200
Footpath signs
1m - 188m | 181m | 188m
Starting point
Punta del Giasso used to be one of the few coves accessible on foot through the regular trails of the Portofino Park. However, following the storm that hit Liguria in 2018, the staircase that provided access to the sea was destroyed, blocking passage. Nevertheless, it remains an adventurous hike that ends steeply overlooking the sea.

The itinerary begins on via Fondaco, the asphalted road at the end of the Portofino parking lot, passing under the Carabinieri barracks.
After passing the hotel, stay on the left to take, shortly after, the steep staircase made of wide stone steps that climbs up the mountain.
Upon reaching the locality of Cappelletta, you must pass through a gate to prevent wild boar passage (please remember to close it behind you), located near a house, and turn left where, a few meters later, you'll find the signs for Punta del Giasso. There may not be a trail marker, but you cannot go wrong because it is a single, well-marked path that descends straight to the bay without encountering any deviations.
The terrain completely covered in leaves makes the path a bit slippery, especially in the first part, so we recommend wearing appropriate shoes and being cautious.
The dirt and rock path, framed by a splendid natural backdrop, meanders through lush vegetation while gradually losing altitude.
With a series of switchbacks, you'll arrive at a narrow passage between rock formations, which used to provide access to the sea but currently marks the end of the trail.
Unlock, view and download the gpx track by becoming a Supporter.
Data sheet
Time

Up to 1h

Length Km

0 - 2

Difficulty

Medium - High
You might also be interested in