Trail ring Portofino Vetta - Semaforo nuovo - Batterie - San Rocco di Camogli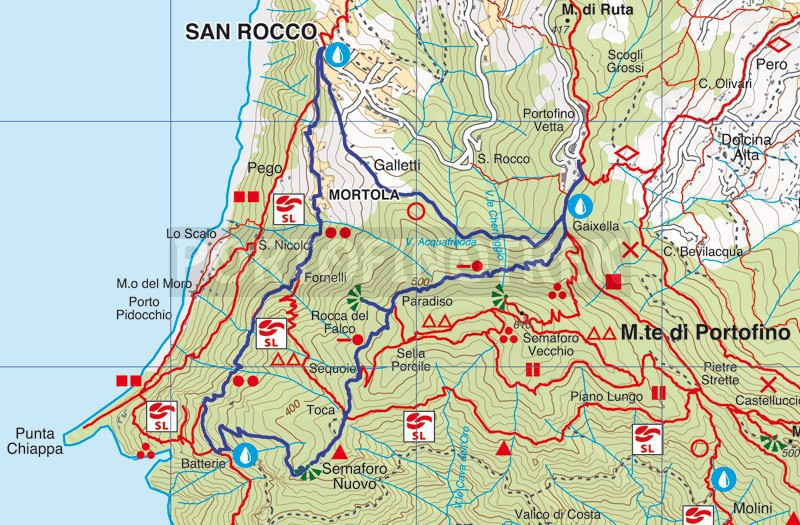 Difficulty
Medium
Duration
2h 30'
Length Km.
6,900
Footpath signs
+++
206m - 520m | 375m | 375m
Starting point
To test this path of the Portofino Park which connects Semaforo Nuovo to Batterie, we followed a ring route starting from Portofino Vetta.

After entering the park, behind the Hotel Kulm (currently closed), continue on the main road that leads to Pietre Strette. After passing the parking area in Gaixella and the detour to San Rocco di Camogli, you must leave the main path.
Here, turn right, and proceed on the flat path (the uphill one leads to Semaforo Vecchio) which alternates stretches shaded by the foliage of the trees with more panoramic stretches; shortly after the road begins to climb up to the Paradiso refuge .
Continue walking on the main path that easily arrives at Toca , where you can take advantage of the shady wooden benches to stop.
From here, following the path marked by a red triangle (

), in 5 minutes you will reach the large square on which stands Semaforo Nuovo, where there are some tables with benches and a landing base for helicopters used for emergencies
The part in front of the building offers a 360 ° view of the Gulf and the Ligurian coast and right here the new path that allows you to go down to Batterie and, if desired, to Punta Chiappa.
The route is well maintained and develops in the middle of the vegetation with incredible panoramic views and in just 20 minutes it arrives at the Batteries Visitor Center, connecting to the San Rocco di Camogli-San Fruttuoso path, from where it can also go down to Punta Chiappa.
Continue to the right towards San Rocco di Camogli to go after the last steps on the coast, in the bush with some ups and downs, which is followed by a slight slope to Fornelli , where it advances, easily, between lands that they do more cared step by step that you approach the first houses.
After passing the small agglomeration of houses in Mortola, the walk, in short, leads to the square of San Rocco di Camogli, where there is a tap of drinking water, a bar, and two small shops (buying the famous "Gallette del Marinaio").
To go back to Portofino Vetta you have to go up the concrete staircase that meets before the church, marked with an empty circle, and which, after passing through the village of Galletti , goes up among olive groves and strips cultivated before entering the wood and arriving, in about 30 minutes in Gaixella, from where, continuing on the main path on the left, you return to the starting point.
Unlock, view and download the gpx track by becoming a Supporter.
Data sheet
Time

From 1h to 2h

Length Km

6 - 8

Difficulty

Medium