Portofino vetta - Pietre strette - Felciara - Bocche - Portofino vetta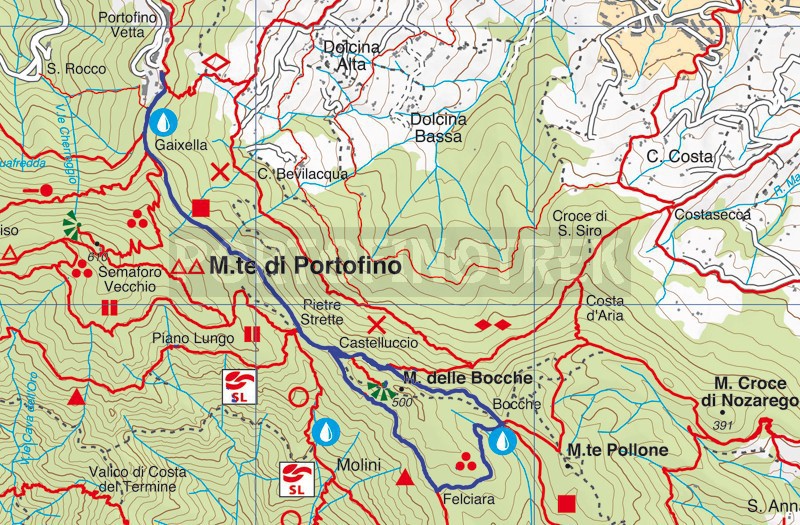 Difficulty
Low
Duration
1h 50'
Length km.
4,650
Footpath signs
+
414m - 473m | 228m | 227m
Starting point
This proposed short loop itinerary from Portofino Vetta presents no difficulties and can be easily completed with small children.
Upon arriving at Portofino Vetta (either with your own means or on foot from Ruta), take the staircase that provides access to the Park located behind the luxurious Hotel.
Turn right and continue straight on the wide gravel path, ignoring various deviations you may encounter. After reaching a first resting area equipped with a table, benches, and a drinking water tap at the location of Gaixella, you'll encounter another at the location of Pietre Strette, an important crossroads of Monte di Portofino.
Once you pass through this picturesque corner characterized by imposing conglomerate rocks, continue on the main path for a few more meters before leaving it to the right to take the path with the sign indicating Base0.
The path, which follows the ridge of the Monte and offers numerous panoramic viewpoints, gradually advances on a false flat until you reach the location of Felciara, a clearing amidst ferns equipped for resting.
Now turn left onto the path that, after a few meters, begins to descend into a shaded valley and leads you to the location of Bocche, on the route between Portofino Mare and Portofino Vetta. Here, you'll find more wooden benches and tables as well as a drinking water tap.

To return to Pietre Strette, turn left and continue straight, taking a moment to admire the panorama from the viewpoint on your right after about 200 meters.
Once you reach Pietre Strette, simply retrace the route you took to find yourself back at the Portofino Vetta parking lot after about 20 minutes.
Unlock, view and download the gpx track by becoming a Supporter.
Data sheet
Time

From 1h to 2h

Length Km

4 - 6

Difficulty

Low