Portofino vetta - Pietre strette - Molini - Base 0 - Prato - Portofino Vetta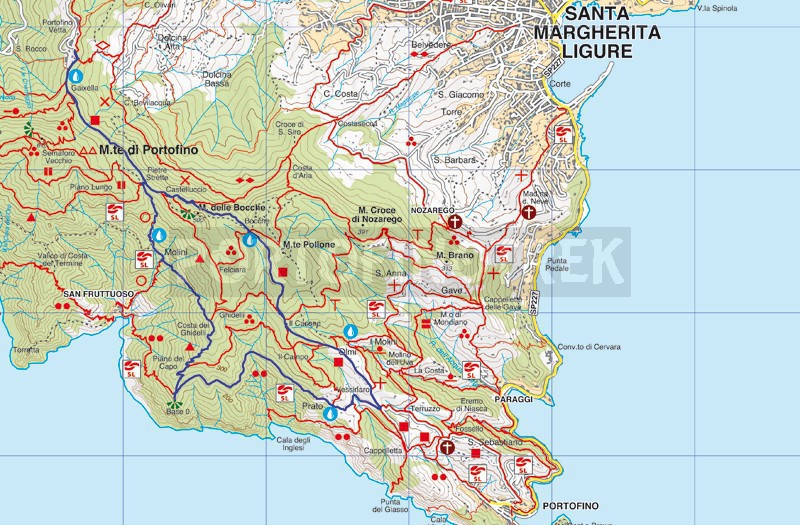 Difficulty
Low
Duration
3h
Length km.
9,400
Footpath signs
++
210m - 478m | 518m | 517m
Starting point
This loop itinerary from Portofino Vetta unfolds through some less-traveled paths of the Park, alternating passages through the woods with more panoramic stretches overlooking the sea.
After parking the car at Portofino Vetta (420 meters above sea level), continue on the paved road to reach the trail access behind the hotel. Follow the main path that mostly advances on flat terrain, passing through the location of Gaixella (412 meters above sea level), a crossroads of trails and a resting point. After about fifteen minutes, you'll arrive at Pietre Strette (464 meters above sea level).
Aside from benches, wooden tables, and a drinking water tap, you'll find numerous branching paths. You need to turn immediately to the right, between the rocky boulders, and then left to descend towards San Fruttuoso. The path descends in the shaded woods until you reach the location of Caselle, recognizable by the presence of a drinking water tap.
Continue a bit further until you reach the location of Molini (248 meters above sea level), where a signpost placed in a very panoramic spot indicates Costa dei Ghidelli to your left (to the right, shortly, you pass by the agriturismo and access San Fruttuoso).
Here, the uphill stretch begins, less frequented but very beautiful as you find yourself surrounded by a forest of centuries-old chestnut and maritime pine trees. After about 20 minutes, you'll arrive at Costa dei Ghidelli (385 meters above sea level).
From here, the descent becomes gradually steeper in a spectacular setting. To the right, you can admire glimpses of San Fruttuoso, and to the left, beyond the vegetation, lies a stretch of blue sea.
When you reach a junction where you'll notice a table with wooden benches, you're at Base 0 (220 meters above sea level). Turn left here (to the right, you descend to San Fruttuoso di Camogli).
The path now advances on a slight incline completely overlooking the sea, with stunning views of the coves below, including Cala degli Inglesi and Punta del Giasso.
After a brief passage through a cool shaded valley, you'll find yourself again along the coast, traversing some ups and downs among protruding rocky boulders that lead you to the location of Prato, consisting of a cluster of houses in an enviable position.
Once you reach this point, to return to the starting point, we suggest another less-known but equally beautiful route that takes you onto the main path of Monte Portofino Vetta - Portofino Mare. Turn left and ascend into the woods, always following the signs for Il Casone, which you'll reach after about 20 minutes.
From here, always turning left without any difficulty, pass through the location of Bocche, where you'll find a resting point and a drinking water tap, and arrive at Pietre Strette, where by retracing the same path, you'll return to the parking lot.
Unlock, view and download the gpx track by becoming a Supporter.
Data sheet
Time

From 3h to 4h

Length Km

8 - 10

Difficulty

Low
You might also be interested in