Santa Margherita Ligure - Pietre strette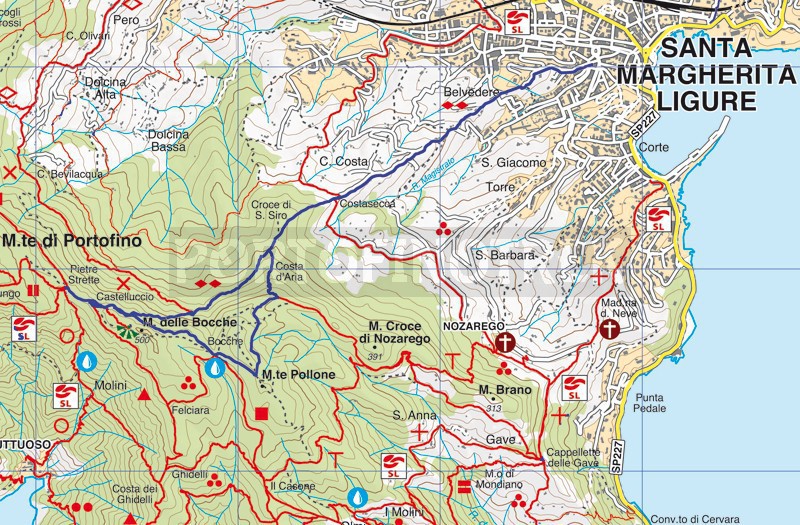 Difficulty
Medium
Duration
1h 10'
Length Km
3,260
Footpath sign
3m - 472m | 506m | 52m
Starting point
about 300 meters, you'll leave the paved driveway and continue to the right on the mule track that runs alongside terraces and private properties. This path is marked with two diamonds (

).
After passing the first turnoff for Nozarego (20 minutes into the walk), after another 10 minutes on a path that alternates between drivable road sections and gravel sections, you'll encounter a second turnoff. From here onwards, the trail becomes quite steep with often high and irregular steps, leading to the "Costa d'aria" location, where you'll cross a short deviation leading to the "Croce di S. Siro" (2 minutes), an old cross built in 1937.
The ascent continues, crossing a turnoff for Monte Pollone just a few meters ahead, and after another 15 minutes, a deviation for Dolcina Alta and San Lorenzo della Costa.
The final, very steep but equally exhilarating uphill section ends on the Pietre Strette - Portofino trail. Turning right, after 5 minutes of level walking, you'll arrive at the Pietre Strette location (approximately 1 hour and 10 minutes from the start).
The route is shaded for 95% of its course by oaks, chestnuts, and beech trees.
To avoid returning along the same path, we recommend taking the Pietre Strette - Portofino trail (

) and, in the Bocche area, after about 15 minutes of walking, turn left towards Monte Pollone. After another 5 minutes, when you reach an open space, descend to the left towards Croce di S. Siro.
A fairly rugged and not well-maintained path (almost resembling a dry streambed) will lead you back to the Costa d'aria location after 20 minutes, intersecting with the path you took to ascend. From there, you can descend from the previous route and return to the starting point on Via Costasecca.


Unlock, view and download the gpx track by becoming a Supporter.
Data sheet
Time

From 1h to 2h

Length Km

2 - 4

Difficulty

Medium
You might also be interested in