Portofino - Cala Vitrale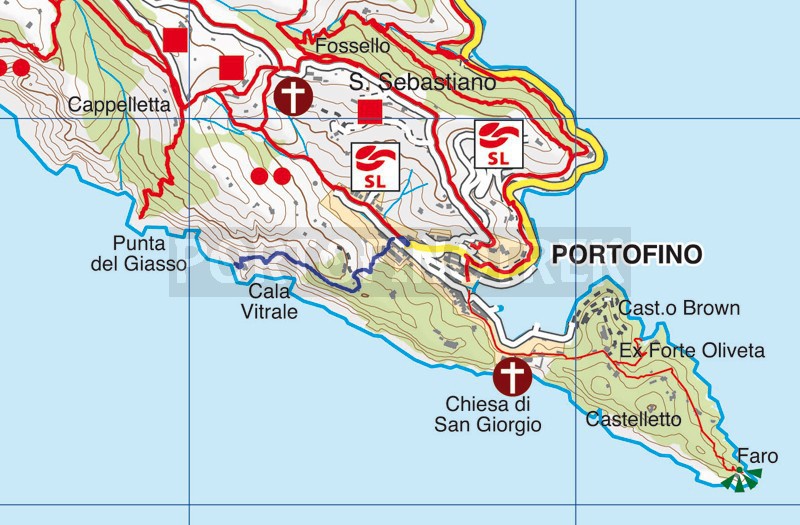  
Difficulty
Medium
Duration
25'
Length Km.
0,700
Footpath signs

NONE

8m - 80m | 123m | 133m
Starting point
What we propose here is a short walk to discover a cove that can only be reached by foot.
We have classified it as "challenging" because being a little known and popular route, in some passages tall grass covers path and since there is no signpost it could be difficult to follow the right direction.
The path however does not present particular difficulties.

Once in Portofino in Piazza della Libertà (the small square at the entrance to the village where there are also motorcycle parking lots), take < strong> Via Vitrale , the stone staircase that you see immediately to the right of the entrance to the covered parking garage.
A small group of houses could suggest a private road, but in reality, beyond these, the path continues to the right with another stairway that climbs towards the hill.

When you reach a crossroads, continue to climb to the left along the path, after about 10 minutes you will meet a gate installed to prevent the access to the numerous wild boars that live on Monte di Portofino and the first indication (actually a little discolored) to Vitrale. As you can see from the cleanliness of this stretch of the route, you are on the border of private properties. Continuing to the left, cross to reach a small and characteristic stone gallery.
Leaving a second gate, a well-kept path awaits you which initially runs along the private property and descends towards the sea, offering some views of great beauty.

When you arrive near " Casa del Sindaco ", the building overlooking the cliff, you have to pay a little attention because the path is camouflaged by tall grass. A few meters before the building try to find, on the right, a path that climbs and passes behind the villa.
Immediately on the left you can see some stone steps that descend that you have to try to reach them, avoiding a large fallen tree that currently hinders the passage and paying attention to where you place your feet.
Gradually the steps become more evident and allow you to get closer to the rocks and therefore close to the sea, pay attention to this given the state in which the staircase and railing are located.
To return to Portofino follow the same itinerary.
Unlock, view and download the trail track by purchasing a map.
Data sheet
Time

Up to 1h

Length Km

0 - 2

Difficulty

Medium
You might also be interested in