Portofino - Cala Vitrale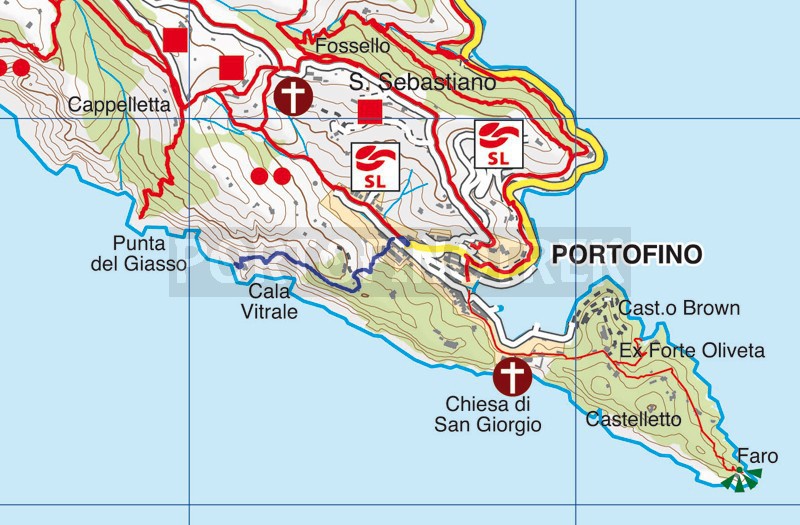 Difficulty
Medium
Duration
25'
Length Km.
0,700
Footpath signs

NONE

8m - 80m | 123m | 133m
Starting point
We propose a short walk to discover a cove that is only accessible on foot.
We consider this route "challenging" because it is relatively unknown and less frequented, and in some parts, tall grass may obscure the trail, and the lack of trail markers could make it difficult to follow the right direction.
The path itself does not present any particular difficulties if you manage to find the final stone staircase (which is partially damaged in some places due to the storm of 2018) that descends to the rocks.

Upon arriving in Portofino at Piazza della Libertà (the small square at the entrance of the village where there are scooter parking lots), take Via Vitrale, the stone staircase you immediately see to the right of the covered garage.
A small cluster of houses might make it seem like a private road, but once you pass them, the path continues to the right with another staircase that climbs up the mountain.

At a fork, continue to ascend on the left along the mule track. After about 10 minutes, you'll encounter a gate to prevent access to the numerous wild boars that inhabit Monte di Portofino and the first sign (though somewhat faded) for Vitrale. As you can see from the cleanliness of this section of the trail, you are inside a private property that you will traverse by continuing to the left, leading you to a small and characteristic stone tunnel.
Exiting through a second gate, you'll find a well-maintained path that initially follows the private property and descends toward the sea, offering some beautiful views along the way.

When you arrive near the "Casa del Sindaco," the building perched on the cliff, you should pay a bit of attention because the trail is concealed by tall grass. A few meters before the building, try to identify, on the right, a path that ascends and passes by the villa. Immediately to the left, you can glimpse some stone steps that descend; you should try to reach them, avoiding a large fallen tree obstructing the path and being careful where you place your feet.
Gradually, the steps become more evident and allow you to approach the rocks, exercising caution due to the condition of the staircase and the railing.

For the return, follow the same route.
Unlock, view and download the gpx track by becoming a Supporter.
Data sheet
Time

Up to 1h

Length Km

0 - 2

Difficulty

Medium
You might also be interested in