San Rocco - Punta Chiappa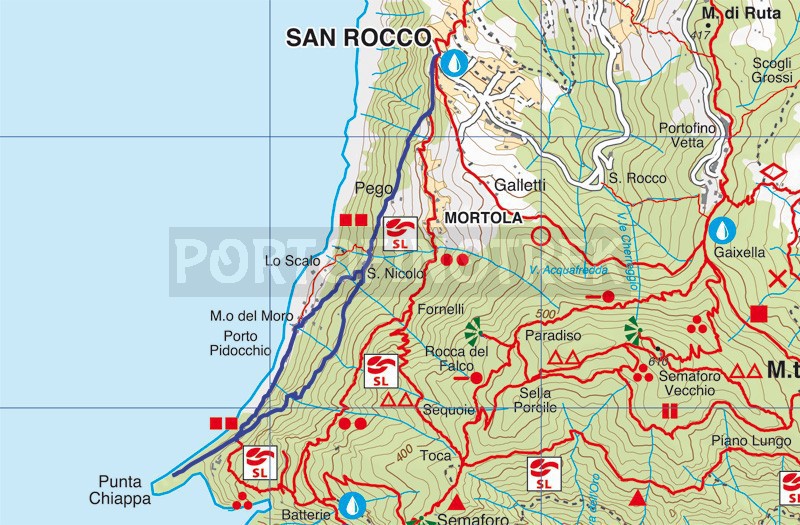  
Difficulty

Low
Duration
30'
Length Km
2,200
Footpath signs
0m - 221m | 363m | 144m
Starting point
This route is marked with 2 filler squares.
After passing the large square of the Church of San Rocco, continue along Via Mortola, the beautiful promenade overlooking the sea and after 200 meters turn right, descending the steep staircase.
The path winds its way in the shade, between the typical Genoese houses of Pego up to the square of the medieval Church of San Nicolò di Capodimonte: this church is worth a stop, just to admire the beautiful panorama and a visit to the Church itself if open.
From here you have two possibilities to reach the sea: continue along the special and short staircase that reaches Punta Chiappa through the pretty village of Porto Pidocchio or take the small road to the left of the Church.
We recommend that you choose the last tip for the descent, because it is less known and moreover, you can see a fantastic view of the Gulf and Punta Chiappa.
A walkway parallel to the cliff, where there are some small restaurants, connects the "Punta" with the small cove of Porto Pidocchio, ending in the locality of "Mulino del Moro".
From here you can go up to San Rocco with a climb of about 1000 steps which, in the locality of San Nicolò, rejoins the first path described above.
Data sheet
Time

Up to 1h

Length Km

2 - 4

Difficulty

Low
You might also be interested in