San Rocco - Punta Chiappa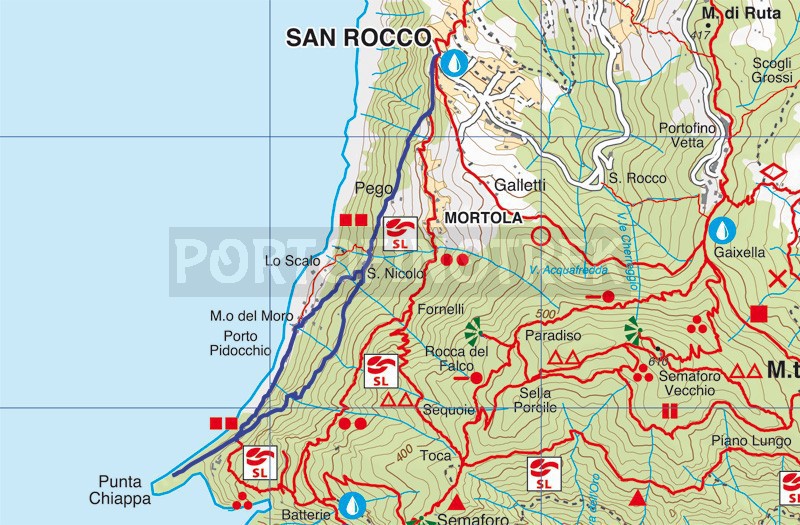 This itinerary is marked by the symbol of 2 filled squares, which allows it to be traversed without difficulty.
After passing the square of San Rocco church, continue on Via Mortola, the beautiful walkway along the sea, and after about 200 meters, turn right and descend the steep staircase.
The shaded path progresses, passing first through some houses that make up the core of Pego, to reach the small square of the medieval church of San Nicolò Capodimonte, which deserves a stop to visit the interior of the church and the surrounding panorama as well.
From here, there are two options to reach the sea: continue along the easy and short staircase that leads to Punta Chiappa, crossing the picturesque village of Porto Pidocchio, or take the small road to the left of the church.
We recommend taking the latter path, less traveled and somewhat uneven, winding under the pine trees and offering picturesque panoramic views of the gulf. It leads directly to Punta Chiappa, the unique tongue of rock extending into the sea.
A walkway parallel to the cliffs, lined with several small restaurants, connects the "Punta" to the small cove of Porto Pidocchio, ending at Mulino del Moro location.
From here, you can ascend to San Rocco using a staircase of about 1000 steps, which rejoins the outbound path at San Nicolò location.


Unlock, view and download the gpx track by becoming a Supporter.
Data sheet
Time

Up to 1h

Length Km

2 - 4

Difficulty

Low
You might also be interested in