Portofino - Cala degli Inglesi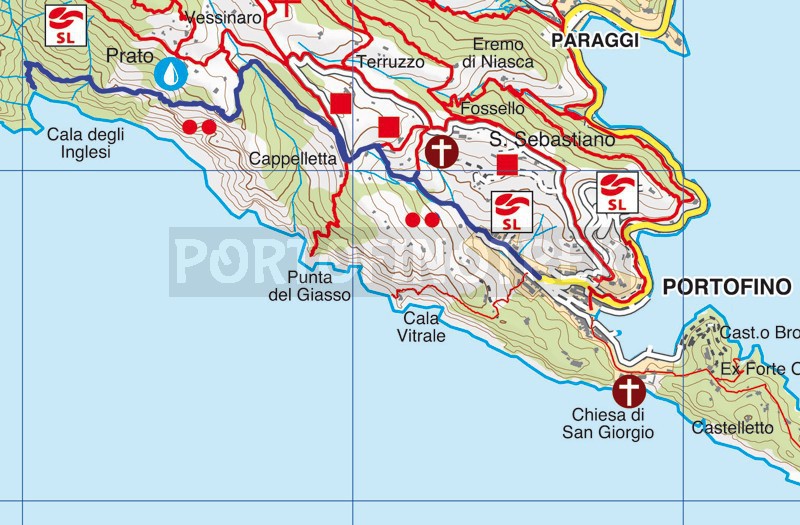  
Difficulty
Challenging
Duration
1h 10'
Length Km.
2,200
Footpath signs
7m - 198m | 253m | 255m
Starting point
Cala degli Inglesi is a beautiful cove characterized by massive boulders and reachable only by foot or by boat. We have chosen as departure the town of Portofino, because it is the shortest route, but you can also may decide to reach Cala degli Inglesi from others places around the Park of Portofino (please check the map to find other alternatives).
The trail begins in Portofino in Via del Fondaco, the road after the parking-car where you can find the police-station too, continues as a slope becoming a steep flight of steps of rocks and cement.
On the trail, which climbs amid dense vegetation, after a few time you encounter a gate (set to prevent the passage of wild animals) followed by a short tunnel with rocks and creepers, which leads to a more open area, from which you can see the tip of the Portofino.
In locality "Cappelletta", got over a second gate, you turn right to take, after 50 mt, in the left path that goes towards "Base 0"; a little dirt path, mostly narrow and flat, goes on among the zones until the locality of Vessinaro, where the sign indicates on the left the direction for Cala degli Inglesi.
The trail, marked as "challenging", in reality, thanks to the support of chains in the most steep and slippery points, does not present great difficulties.
The trail goes into the wood with a descent but after a few moments it goes out with a short climb on the western side of the Portofino Mt. and it will continue to run along it for all the trail. Very scenic view on the sea below, where it's not rare to see the dolphins!
This first part of the journey, except for two fallen trees that obstruct the path slightly, it is very pleasant and developed mainly in the plain on the narrow path.
Then, there's the exciting descent to the bay with some stretches where you walk directly on the rock alternated with stretches of dirt road steep and slippery (not recommended after the rains), which require a minimum of care.
After about 40 minutes from the deviation in locality Vessinaro, you get to the beautiful wild creek that is characterized by massive boulders and a fantastic sea.
For the return journey, we recommend to follow the same path.
Unlock, view and download the trail track by purchasing a map.
Data sheet
Time

From 1h to 2h

Length Km

2 - 4

Difficulty

High
You might also be interested in