Portofino - Cala degli Inglesi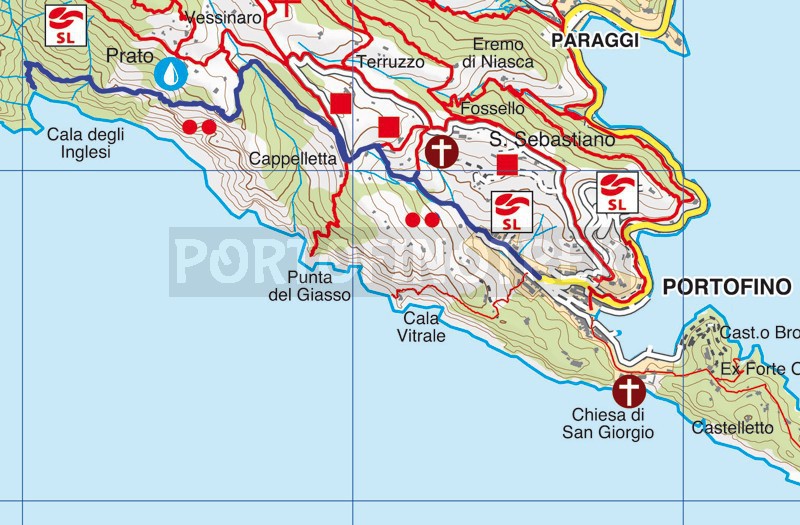 Difficulty
High
Duration
1h 10'
Length Km.
2,200
Footpath signs
7m - 198m | 253m | 255m
Starting point
Cala degli Inglesi is a beautiful cove characterized by imposing rocky boulders, accessible only on foot or by boat.
We chose Portofino as our starting point because it is the shortest route, but it is also possible to access Cala degli Inglesi from other locations within the Portofino Park (refer to the map for alternative options).
The trail begins in Portofino with Via del Fondaco, the road at the end of the parking lot that, after passing the Carabinieri barracks, becomes a steep staircase made of stones and cement.
The path winds its way through dense vegetation, but soon, you'll reach a more open point from which you can admire the tip of Portofino.
In the locality of Cappelletta, you'll pass a gate placed to prevent wild boars from passing through (please remember to close it after passing). Then, turn right to join the left trail direction Base 0; a mostly narrow and flat dirt path advances through terraces until you reach the locality of Vessinaro, where a signpost indicates, to the left, the direction to Cala degli Inglesi.
The trail is marked as "challenging" because some sections are particularly steep and covered with leaves and dirt, making them slippery. The presence of chains helps in navigating these sections, but it is strongly recommended to exercise caution and wear appropriate trekking shoes.
The trail descends into the woods and then emerges, after a brief ascent, on the western side of Monte di Portofino, where it runs along the entire route projected over the deep blue sea below, where it's not uncommon to spot dolphins swimming.
This initial part of the route is very pleasant and mostly unfolds on a narrow flat path.
It is followed by an exciting descent to the bay, with some sections where you walk directly on the rocks alternating with steep and slippery dirt tracks (not recommended after rain), which require some caution.
After approximately 40 minutes from the deviation in the locality of Vessinaro, you'll arrive at the splendid and wild inlet characterized by imposing rocky boulders and pristine waters.
For the return journey, retrace your steps on the same trail.
Unlock, view and download the gpx track by becoming a Supporter.
Data sheet
Time

From 1h to 2h

Length Km

2 - 4

Difficulty

High
You might also be interested in