Zoagli - Rapallo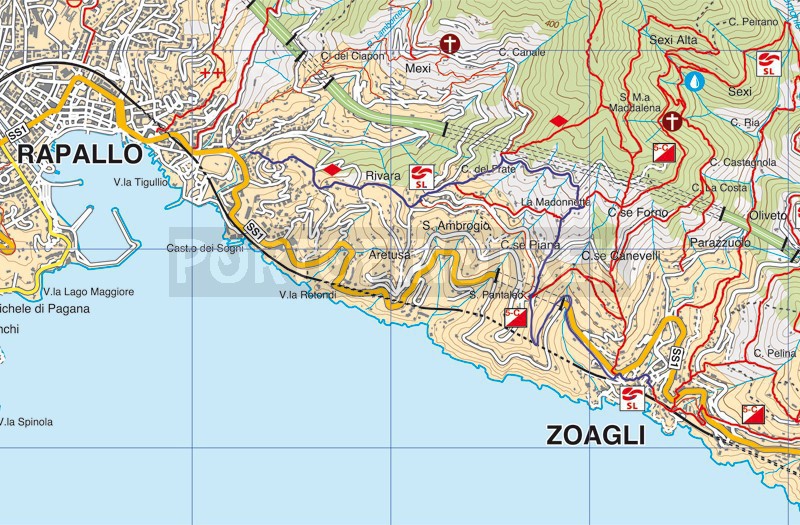  
Difficulty
Low
Duration
1h 30'
Length Km.
3,730
Footpath signs
+
9m - 2262m | 301m | 300m
Starting point
The departure is from the Zoagli's square where we take Via XX Settembre which after a few meters takes us to Via Antica Romana where we find the indicator n° 41.
We follow it all, until we reach the driveway (Via Aurelia) that we must cross (Pay close attention during the crossing) to continue uphill until we reach the indicator n° 38 and after a few meters the number 37 which introduces us to the path that is part of the route of the 5 Campanili (

) and which, going up, leads to the church of San Pantaleo, offering panoramic views of Zoagli and the whole coast up to Sestri Levante.
Once in S. Pantaleo we continue to the right along the driveway that we leave after a hundred meters taking Via dei Lecci, a very steep climb of about 100 meters which allows us to reach the marker number 50 on Via Delle Ginestre; we take the staircase, which is also quite steep, which leads us to the marker n ° 25. Here we turn left and begin to descend, until we reach Scalalunga on a small driveway that we have to go downhill for just over 300 meters until you reach the marker 27. We take the pedestrian that will take us to the chapel of San Isidoro.
We still go down to the churchyard of the beautiful church of Sant'Ambrogiowhich is definitely worth a visit. Enjoy the view of Rapallo and its gulf; there is also a drinking water tap here.
We go down the steps in front of the church turning right at its end. Following this path (

), which alternates stairways with concrete and asphalt parts and driveways, we find ourselves after about 1.2km in Rapallo in the " Seglio " district.
From here is very easy reaching the city center: you can passing through the " Parco Casale " just in front of you when on the main road or walkin about 1 km on the Via Aurelia which will also take you to the Rapallo seaside promenade.
Unlock, view and download the trail track by purchasing a map.
Data sheet
Time

From 1h to 2h

Length Km

2 - 4

Difficulty

Low
100% secure payments
You might also be interested in