From Zoagli to Chiavari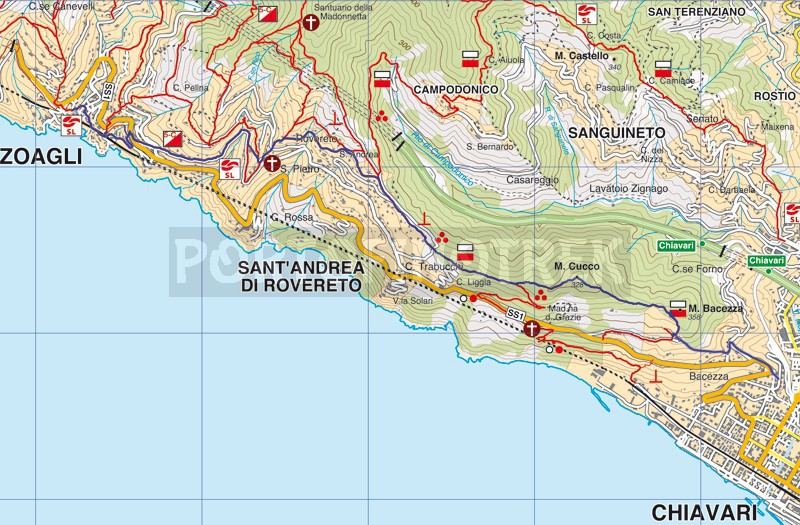  
Difficulty
Low
Duration
2.30h
Length Km
6,100
Footpath signs
+ + +
4m - 293m | 417m | 416m
Starting point
This trail starts from the small square of Zoagli taking Via Garibaldi on the left looking at the sea.
After about a hundred meters, continue left on Via Romana di Levante which takes us to Via Aurelia; continue uphill on the sidewalk for a few meters and cross the road taking the stairway which climbs to the left marked with the 5 Campanili signpost and leads onto Via San Pietro.
After about fifty meters you will see on the left a staircase that climbs next to the houses. We begin to climb for about 200 meters until we reach Via dei Tessitori which we walk to the right for about 400 meters then taking the path to the right, under the road, which leads to the Church of San Pietro di Rovereto.
Here you take the stairway to the left of the church and start climbing; cross Via dei Tessitori again and continue to climb Via Longarola for about 100 meters where, in front of a private house, take the path on the right that leads to Sant' Andrea di Rovereto, passing over the beautiful church and then in the locality named "Costa di Rovereto".
You go down and walk on asphalt through the locality of "Case sparse" until you enter the wood, a dense and beautiful holm oak that shades the path for most of the route. You then arrive at a crossroads where on the right you'll reach Monte Cucco (Monte Telegrafo); we take the path on the right (

) descending slightly and then continue on the flat until you come out of the woods and arrive at a spectacular panoramic point on Chiavari. The presence of a beautiful cottage and a garden full of flowers makes us understand that we are surrounded by private property so we respect the residents and continue on our path. We continue straight following the trail signs

and

until you cross the path that comes from Monte Telegrafo.
Scendiamo a destra seguendo sempre i medesimi segnavia, è impossibile sbagliare, fino ad arrivare ad un bivio dove consigliamo vivamente di prendere il sentiero a sinistra contrassegnato con

e ci porta attraversando brevemente una proprietà privata, ma con possibilità di passo, su una strada asfaltata fino ad un semaforo.
Si scende a sinistra sulla strada carrabile (prestate attenzione) fino alla curva di fronte alla Chiesa dove si imbocca la scalinata a scendere fino in località Bacezza a Chiavari e dove finisce il nostro itinerario.
Unlock, view and download the trail track by purchasing a map.
Data sheet
Time

From 2h to 3h

Length Km

6 - 8

Difficulty

Low
100% secure payments
You might also be interested in