Trail ring Uscio - Cave di Monte Rosso - Passo pozzette - Casa del Cinese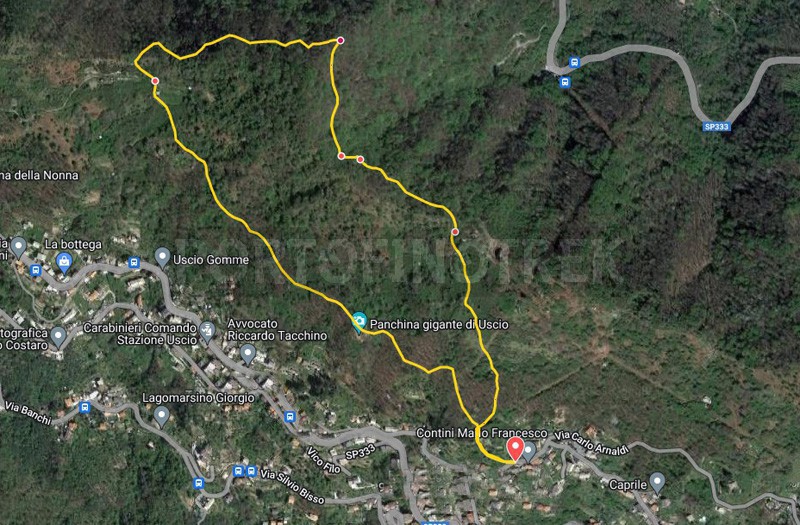  
Difficulty
Bassa
Duration
1h 20'
Length km.
2,800
Footpath sign
409m - 561m | 214m | 214m
Starting point
A short trail suitable for everyone starting from Uscio, a municipality in the east Liguria, located approximately 10 kilometers from Recco.
After passing the church, after about 400 meters, you will leave the main road and turn right onto Via Bisagno, a narrow street that climbs between houses and leads to an area with a few parking spaces. Alternatively, you can leave your car near the church and walk up Via Costa della Chiesa.
The trail starts where Uscio Outdoor has placed a clear and visible sign indicating the direction "Polveriera trail". The trail ascends between terraces and soon reaches a fork where you continue left to cross a chestnut forest. Initially, it is relatively flat, but then there is a final uphill section leading to the "Polveriera", a building used as a storage facility for explosives when the mines were operational
Here, a giant bench has also been placed, one of the many big benches that have been installed in various scenic spots across our country in recent years, becoming a tourist attraction.
Continuing, the trail now becomes more open and offers panoramic views, you will ascend until you reach a junction. Here, you will keep to the right (although the left path rejoins later on) to find a sign indicating the direction to "Cave di Monterosso" trail marker (

and

).
The trail now enters a beautiful forest, and as you continue on a flat path, you will reach the most interesting area of the route. This area preserves the abandoned slate quarries, where you can still see traces of the ancient activity and the small lakes that have formed over time inside some of these quarries, making them particularly captivating.
Continuing on, you will return to the ridge at Passo Pozzette, in a place known as "Casa del Cinese" (Chinese's house), named so due to the presence of a building inhabited for some time by a mysterious Chinese man. It is said that he settled here to study the herbs that grow in the area.
Previously, it was a farmhouse that was part of the "Casacce con le stelle" (houses with stars) network, used by the partisans to hide from the fascists during World War II.
You descend along the "Sentiero del Cinese" (Chinese Trail), which takes you back to the starting point of the "Sentiero della Polveriera", which you previously followed.
From here, by descending to the left, you will reach the starting point of this short itinerary after a few meters, completing the route.  
Unlock view and download the trail track by purchasing a map.
Data sheet
Time

From 1h to 2h

Length Km

2 - 4

Difficulty

Low
100% secure payments