Trail ring Uscio - Passo Spinarola - Tribogna - Monte Rosso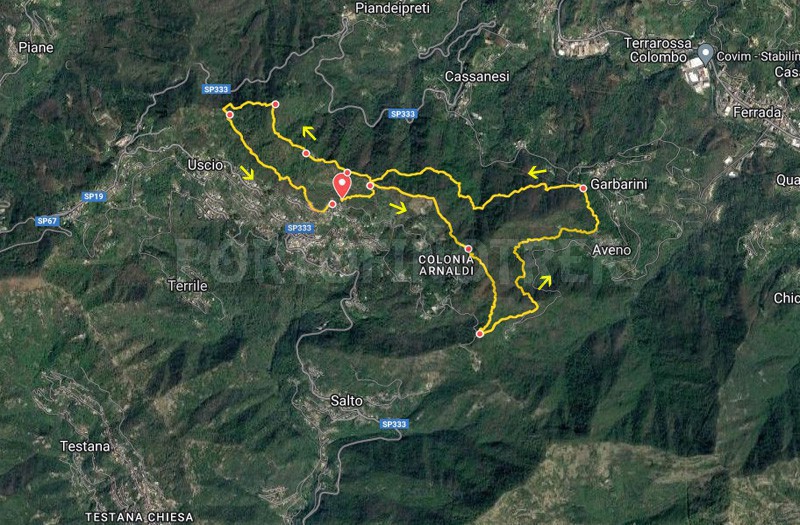  
Difficulty
Low
Duration
3h 00'
Length km.
10,000
Footpath sign
+
335m - 660m | 490m | 510m
Starting point
The starting point of this circular trail is in Uscio, at the beginning of Via Arnaldi, the natural continuation of Via Bisagno, where a signpost indicates the direction towards Passo Casetti. After about 500 meters of uphill climb through a chestnut forest and passing a few scattered houses, you reach Passo Casetti.
After crossing the wooden bridge, you take the path on the left towards Monte Tuggio (or Monte Tugio, 677 meters above sea level). It's not a long route, but the ascent to the summit, especially in the final stretch, is quite steep. Upon reaching the summit, characterized by the presence of a concrete cross donated in 1936 by G.B. Trebino, the view is spectacular, although somewhat disrupted by the presence of two antennas and repeaters. Here, the remains of a fortress built by the Fieschi, counts of Lavagna, are still visible..
Continuing along the trail, which is also popular among mountain bikers, shortly afterwards, it enters the woods and continues to descend until reaching the Passo della Spinarola (Spinarola Pass) after approximately 10 minutes.
Here, you follow the downhill asphalt road towards Tribogna until you reach the first hairpin turn on the right. At this point, you leave the road and enter the woods to follow the trail of "2 Golfi" (Two Gulfs).
It is a very enjoyable descent that passes through several points of interest, such as crossing over the Aveno slate quarry, the only open-air quarry in the Fontanabuona area. In 1999, it served as a backdrop and scenery for a Claudio Baglioni music video.
The trail ends near a house, where you continue on a drivable road to reach a cluster of houses in the locality of Crocetta, already in the municipality of Tribogna. You turn left, following the trail marker "ISC" (Historical Colombo Itinerary), which starts from Terrarossa Colombo and goes all the way to Quinto..
Now the route goes uphill through the forest, which also houses the quarries of Monte Tugio, until you reach Passo Casetti again.
By following the same footpath sign (

) that leads to the path inside and allows you to visit the interesting slate quarries of Monte Rosso, you can observe the traces of the miners' activity that are still visible.
Once back in the Uscio valley, you descend to the left to take the trail known as the "Polveriera trail". It's a beautiful trail that crosses through woods and terraces, leading to the old explosives storage. This structure was used as an explosives depot when the quarries were active. Behind the magazine, a giant bench has been installed, offering a panoramic view of the valley below.
After 500 meters of further descent, you return to Uscio again a few meters from the starting point, on Via Bisagno.
Unlock view and download the trail track by purchasing a map.
Data sheet
Time

From 3h to 4h

Length Km

8 - 10

Difficulty

Low
100% secure payments