Circular trail Sestri Levante - Punta Manara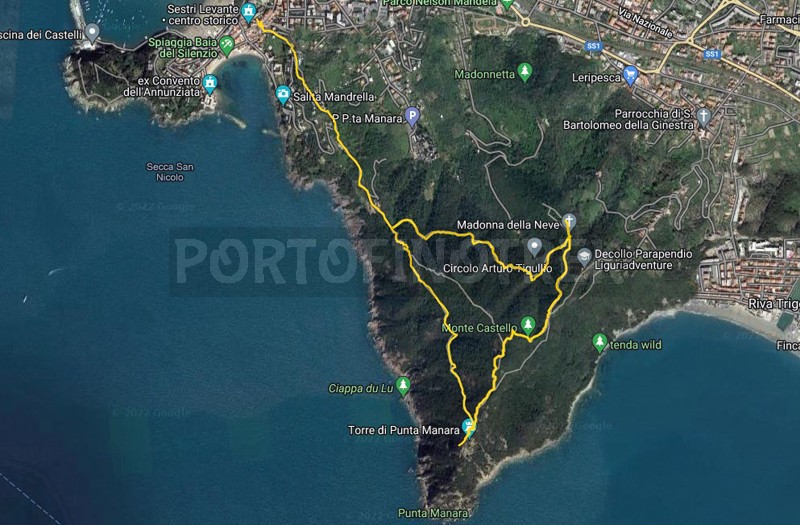 Difficulty
Low
Duration
2h
Length km.
4,800
Footpath signs
+ + +
6m - 259m | 413m | 319m
Starting point
The starting point of this easy but very fascinating excursion is right in the historic center of Sestri Levante, in Via XXV Aprile at the height of a portico that you cross to take the path.
Following the two squares

, walk along a beautiful and wide staircase passing through the characteristic colored Ligurian houses, coming out shortly after a short climb, in Mandrella , surrounded by a more peasant environment with beautiful bands, olive groves and a breathtaking view of Sestri Levante and the Gulf of Tigullio .
Arrived at a crossroads, where a useful panel has been placed, we choose to continue following the two red squares, to go up along a well-traced path surrounded by maritime pines, strawberry trees, cork plants and which develops entirely on imposing rocks. which make it particularly characteristic.
It is worth stopping every now and then to admire the view behind you.
At a second crossroads indicating the Madonna della neve , continue straight going up again.
In a short time you will reach a building (Bivouac of Punta Manara), go up the steep staircase behind to find yourself at Torre di Punta Manara, a position of incomparable beauty that allows you to embrace with your eyes the whole Tigullio Gulf, Riva Trigoso and Punta Baffe which is right in front of it.
Go back down the steps you have traveled before to continue in the direction of Riva Trigoso following

to take shortly after the path that climbs to the left through which you reach the 266 meters of Monte Castello where you can see the ruins of an old observatory surrounded by scrub.
From here you go down to the locality Terra Rossa

, an area that with its wooden benches and tables lends itself to a stop.
Continuing on you will arrive at the votive shrine dedicated to the " Madonna della Neve ".
Go back slightly on the same path and at the crossroads take the path on the right marked with the footpath sign

 and which leads back to the detour encountered on the outward journey.
Arriving at the crossroads, all that remains is to take the path of the outward journey to the right which arrives again at the starting point, in the pedestrian center of Sestri Levante.
Unlock, view and download the gpx track by becoming a Supporter.
Data sheet
Time

From 1h to 2h

Length Km

4 - 6

Difficulty

Low