Walking from Santa Margherita Ligure - Portofino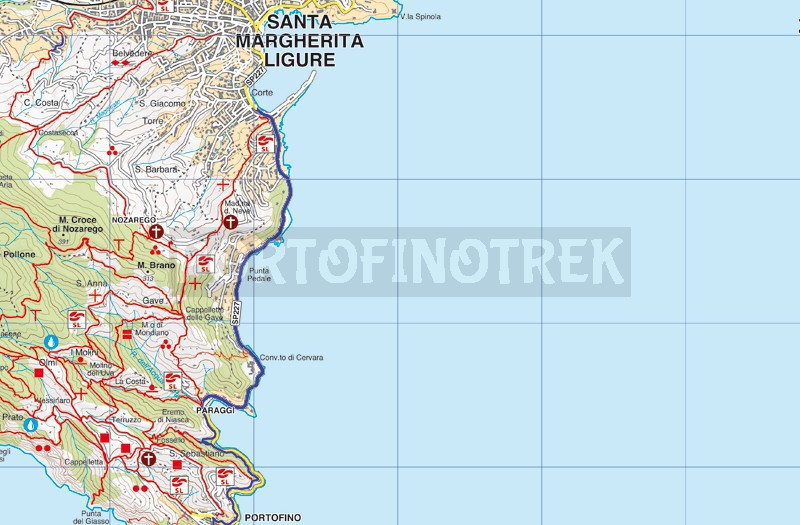 Difficulty
Easy
Duration
1h 20'
Length km.
5,500
Footpath signs

NONE

0m - 47m | 131m | 130m
Starting point
This is not a trekking route because it is developed, in large part, on the driveway, but we recommend it to those who do not know why this is one of the most beautiful walks to spectacular views of Tigullio that can be admired.
The start is in Santa Margherita Ligure, in Piazza V. Veneto. From here you follow the promenade through the gardens and past the fish market, which comes alive in the late afternoon when the fishermen return with their catch, you can reach the marina.
Beyond the port, along the beaches encountered a stone building that hosts a unique local and then another series of beaches in summer, with sun beds and beach umbrellas. Across the street, is lined with luxurious villas until you reach a small road that leads to Abbey of Cervara.

Here begins a footbridge over the sea that makes it safe to be very impressive this stretch of road is very narrow and lasts until the beautiful Paraggi's bay.
Go through the tiny hamlet passing between the beaches and the houses to emerge on the road. Take the small stone steps in front of you that allows you to access the pedestrian Paraggi - Portofino.
It is a promenade that runs parallel to the driveway below, but is completely surrounded by greenery and offers numerous panoramic views. After about 20 minutes of walk, the view of the harbor of Portofino, with its exclusive yachts, announces the imminent arrival of the most famous village in Liguria. Our tour ends at the church.

We suggest, besides the inevitable turn in the square of Portofino, a nice walk (about 20/25 minutes), passing the church of St. George and Castle Brown, leads to the lighthouse (here, in season, there is a small and bar).

For the return you can take a bus which connecting the two towns (look at the timetable).
Unlock, view and download the gpx track by becoming a Supporter.
Data sheet
Time

From 1h to 2h

Length Km

4 - 6

Difficulty

Low
You might also be interested in