S. Margherita Ligure - Nozarego - Olmi - Base 0 - San Fruttuoso - Pietre strette - SML
 
| | |
| --- | --- |
| Difficulty | Medium |
| Time | 4h 40' |
| Distance km. | 8,850 |
| Signs | + +++ |
Opposite the entrance of the Santa Margherita Ligure port, behind the gas station, a small path climbs between housing and ranges up to the chapel of Our Lady of the Snow, in the locality Nozarego.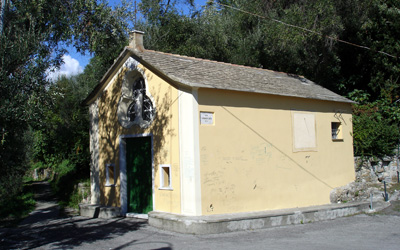 Continue for a few meters in the carriage road until you see on the left the trail that, after a short climb, it joins the main path to continue mostly flat, with views of the Abbey of Cervara, up to town Cappelletta delle Gave.
The route alternating now uphill more shady at times in the sunniest valley and along a few scattered houses, coming to a point of stopping equipped with benches, tables and tap for drinking water, near the Mulino del Gassetta (today's eco-museum and refreshments point).
From here the road becomes paved road (is crossed by residents with small means), and in short, is entered in the locality Olmi, the main route of the "Monte", the axis Portofino Vetta - Portofino sea.
Following "sea" direction, on the left, the trail descends between olive trees, offering the first glimpses of the Gulf of Tigullio, and come to a crossroads (right and left continues to Portofino sea) equipped with a wooden table and some benches.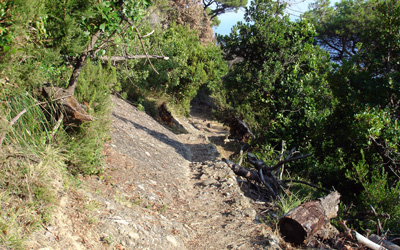 Continuing to the right, after a first section paved in places Vessinaro, the route continues on a small path that crosses the resort Prato and, after the junction to Cala degli Inglesi, comes out on the ridge of the mountain.
The path, constantly facing the sea, now alternates stretches in the plains to numerous ups and downs including protruding boulders until you reach Base 0, where we begin to glimpse San Fruttuoso di Camogli.
The descent to the bay is steep and a little uncomfortable but it is rewarded with superb views on the Abbey that as you get closer, more and more exciting. You arrive at the landing platform for helicopters and, passing between the fishermen's houses, to the beach.
After a well deserved break, we undertake the climb to the top with the lane behind the Abbey leading to Doria Tower and, hence, salt, in a steep, along a stream.
Through a series of shady and sunny traits traits in the midst of cultivated fields we pass a Agririfugio and Casella, a small water source.

With a last series of hairpin bends in a shady valley you reach locations Pietre Strette, equipped rest area with benches, tables and tap for drinking water.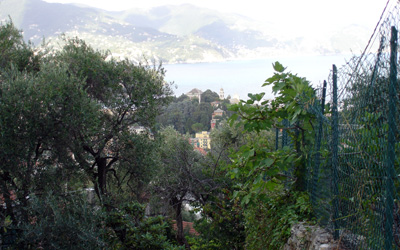 Following the direction to Portofino sea, a few minutes later, left, between imposing boulders begins the path that, in about 50 minutes, down to Santa Margherita Ligure.
The initial route is quite steep and rough, but exceeded Costa D'Aria place and the slope decreases, approaching the first houses, offers beautiful views of San Lorenzo della Costa and Santa Margherita Ligure.
The last section of the route is developed in via Costasecca, a trail that descends between private property and cultivated terraces and ends next to the Santa Margherita Ligure old hospital.
Data sheet
Time

From 4h to 5h