San Fruttuoso di Camogli - Base 0 - Pietre Strette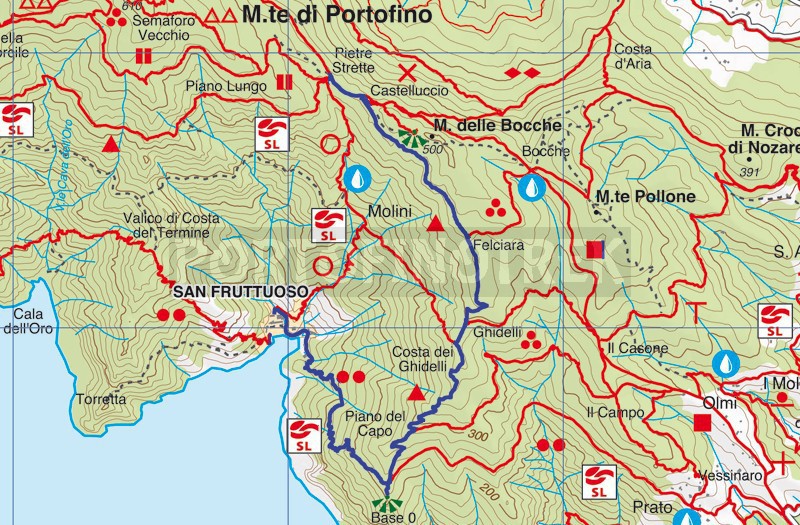 Difficulty
Medium
Duration
2h 00'
Length km
3,300
Footpath signs
+ +
2m - 466m | 591m | 136m
Starting point
This route is an alternative to the direct path that passes from location Casella to reach the summit of Monte di Portofino and then onward to other localities of the area.
Take the small road behind the Abbey, which passes under Torre Doria leads to the small pebble beach and goes between the fishermen's houses.
On reaching the landing pad for helicopters scramble down the steep and irregular path that leads into the forest shaded by offering numerous panoramic views across the bay from which you depart gradually.
After about 40 minutes, you will find one spartan staging point made by some tree trunks in the area of Base 0 (220mt. above sea level), leaving the sea behind you turn left (right, you get to Portofino sea) and continue of land on the beautiful trail that goes up surrounded by lush vegetation.


Ignore the deviations encountered along the way: in Costa Ghidelli there is a connection of the trail that climbs from San Fruttuoso and comes directly to Pietre Strette; in Ghidelli you can reconnect to the summit trail Portofino - Portofino sea.
Once in place Felciara, which recognize the presence of many ferns, if you want to end your journey in Santa Margherita Ligure go right towards Bocche (see map) otherwise continue, like us, toward Pietre Strette.
The trail, which in some points again allows you to admire the sea, now advances apparently flat and, in short, joins the path from Portofino to the sea.
Another few minutes and you find yourself Pietre Strette, picnic area with benches, wooden tables and tap water.
From here you can reach different places (Camogli, San Rocco di Camogli, Ruta).
The trail traced byGPS on Google Maps
Unlock, view and download the gpx track by becoming a Supporter.
Data sheet
Time

From 1h to 2h

Length Km

2 - 4

Difficulty

Medium
You might also be interested in