San Fruttuoso di Camogli - Pietre strette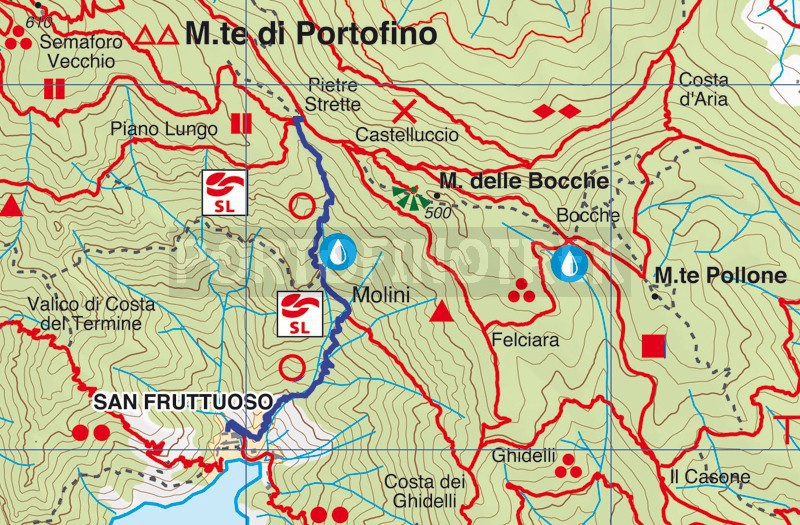  
Difficulty
Medium
Duration
1h
Length km
1,500
Footpath signs
 
4m - 458m | 463m | 9m
Starting point
This is the shortest route for reaching Pierte Strette starting from San Fruttuoso. Once arrived at Pietre Strette you can several ways to proceed to other destinations. From here you can reach Santa Margherita Ligure, Ruta, Camogli.
Take the trail that starts behind the Abbey, with a steep but short staircase leads you in front of Torre Andrea Doria.
From here a very steep small path it up advancing in a shady valley and along a creek. The hairpin turns, then go on between the "fasce" and olive trees in a stretch sunniest, passing in front of a Agririfugio Molini.
Beyond Casella locations where there is a drinking water faucet; the trail enters now  in the woods again and in about 20 minutes it comes to imposing boulders, that mark places Pietre Strette (465mt asl), the center of Portofino as well as point staging with tables, benches and drinking water faucet.
The area also features a large map of the Park that will allow you to choose the path best suited to your needs.
Unlock, view and download the trail track by purchasing a map.
Data sheet
Time

Up to 1h

Length Km

0 - 2

Difficulty

Medium
100% secure payments