Trail ring Recco - Monte Ampola - Caravaggio - Esoli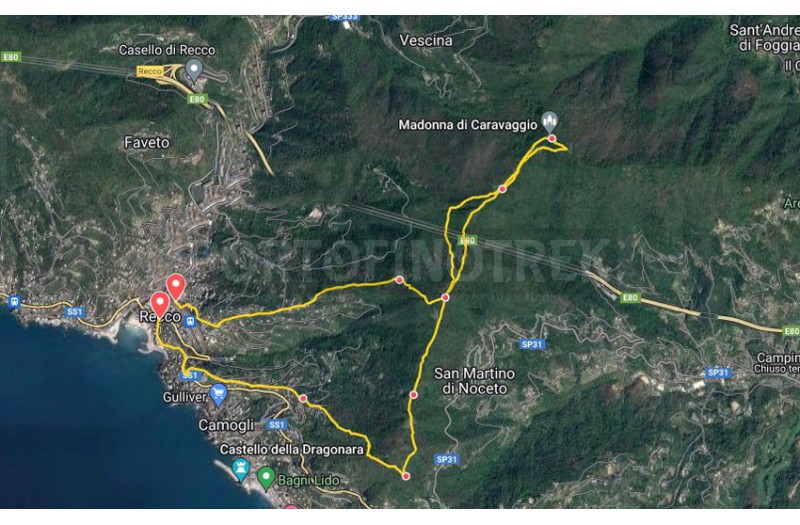  
Difficulty
Medium
Duration
3h 40'
Length Km
9,700
Footpath signs
+ +
3m - 603m | 804m | 803m
Starting point
This itinerary starts from Recco, in Via Fiume, under the railway bridge. You climb up Via Mimose and follow it along, taking the staircase marked with an empty red triangle footpath sign (

). You continue on Via Mimose, then after a short while you cut onto Via N.S. del Fulmine, which you cross, continuing to climb and then crossing it again. You climb again, emerging onto Via Pastene, which you follow for about 200 meters before entering the woods on a beautiful path characterized at times by rocks, until you reach the locality of Cruen, characterized by a beautiful meadow where a couple of benches with a table have been placed a little further ahead.
Continuing along the ascending path, after about 500 meters, you reach a wide dirt road and immediately after Pian di Cren.
From here, continue north and take the trail on the right that climbs along the beautiful ridge and leads to the summit of Monte Ampola, from where you can enjoy a panoramic view of the Gulf of Tigullio and Gulf of Paradiso.
The descent begins here and after about 500 meters, you will arrive at the Piane di Caravaggio, a large green area that is often chosen by families for picnics on weekends.
To reach the Sanctuary, which can be seen in the distance, you climb up the old road that goes straight under the mountain and ascends with irregular steps, taking about 20 minutes to reach the top of Mount Orsena where the Sanctuary of Caravaggio stands..
After resting and admiring both the sanctuary (which is only open on certain occasions) and the view, we continue by descending the staircase in front that leads to the helicopter landing strip; then turn left and return to the Piane di Caravaggio.
Here, instead of climbing up to Monte Ampola like on the way there, you take the trail on the right that goes around the mountain and continues on a level path back to Pian di Cren. From here, you continue straight, always following the same trail markers.

passing thorough Esoli Nord and beginning the descent towards Ruta di Camogli.
After about 600 meters (approximately 15 minutes of walking), before reaching the small cement staircase, it is necessary to pay attention and identify, on the right, a signpost indicating the direction to Recco. At this point, turn and follow the path marked with

which leads after a one kilometer walk in the woods to the locality of Carbonara.
You continue to descend and, after about 900 meters, you reach a junction: we recommend abandoning the trail markers with the 3 circles to turn left and go down the stairs that lead directly to the pedestrian crossing on Via Aurelia.
You cross the road and continue downhill to the right to immediately arrive at Via San Francesco, which leads to Via Rebora in 200 meters, and shortly after to Recco city center, where this itinerary ends.
Unlock, view and download the trail track by purchasing a map.
Data sheet
Time

From 3h to 4h

Length Km

8 - 10

Difficulty

Medium
100% secure payments