Trail ring Recco - Megli - Redentore - S. Apollinare - Polanesi - Mulinetti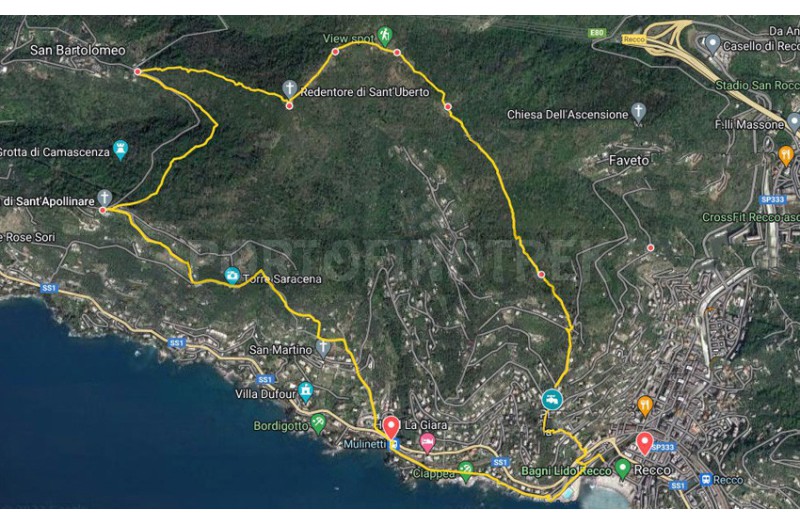  
Difficulty
Low
Duration
3h 00'
Length Km
7,700
Footpath signs
+
4m - 481m | 567m | 568m
Starting point
The departure is in Recco, from the pedestrian bridge towards the swimming pool on Passeggiata Punta Sant'Anna. Then take the left for a few meters to take a staircase between the buildings (it may be a little hidden) that goes up to Via Romana and then to Aurelia.
Crossing the street close to the traffic light, take Salita Megli with the FIE signpost 

, a mule track goes up, initially among the houses, and in about 20 minutes ends below the church of Nostra Signora delle Grazie, in the delightful hamlet of Megli.
Here there is a tap of drinking water.
After admiring the panorama opens up in front of the church square, you continue along Salita Castelletti, a staircase that rises quite steeply and leads to the drivable road in the locality of Torre di Marana. Turn right for a few meters to resume the path on the left that climbs towards the locality of "Quadrivio di Marana" first, and after about 900 meters, reach a very open area from which you can admire the sea called Sullagà.
Here you can continue in various directions. Our route, in this particularly pleasant stretch, continues uphill towards Pendici Est Monte Castelletto, which is reached after just over 300 meters and is just before the locality of Redentore nord.
Now, following the path towards the sea, you will soon arrive at Redentore di S. Uberto, where you can admire the large stele of the Redeemer and the small and very characteristic church.
The route continues by taking the descent towards S. Bartolomeo, a path that winds through the woods and ends on a drivable road after just over 700 meters. Turn left along the asphalt road, which you will abandon after just over 150 meters to re-enter the woods with a path initially uphill and then flat for about one kilometer, which leads to Sant'Apollinare.
After visiting the small church, take Via Belvedere, a cement road passes between beautiful houses and offers very panoramic views, then abandon it shortly after, and take a steep descent that leads to Strada della Baggiara, the more rural path below which pass close to medieval tower and shortly after reach Polanesi, in the "campetto" area. The route continues towards Recco and, after a few meters, when in the locality Polanesi Cimitero, take a long staircase descending to the right it leads directly to Mulinetti on Via Aurelia.
Here, take the direction towards Recco and cross the bridge to pass through the underpass of the old railway station and continue to the left towards Recco on a very pleasant road with a sea view and surrounded by beautiful villas.
The walk ends near the Recco municipal swimming pool, where this itinerary also concludes.
Unlock, view and download the trail track by purchasing a map.
Data sheet
Time

From 2h to 3h

Length Km

6 - 8

Difficulty

Low